Identify the Bride
From Giftypedia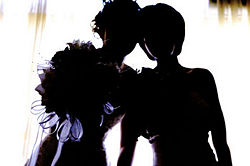 Type of Game: Wedding Reception Game
First blindfold the groom. Choose 5 people, other than the bride, to kiss the groom on the cheek. The groom should then try to identify his bride.
Game Variations
Have the groom identify his bride by feeling their feet. For even more fun, choose 5 men.
More Wedding Reception Games...
Related Articles