Dollar Dance
From Giftypedia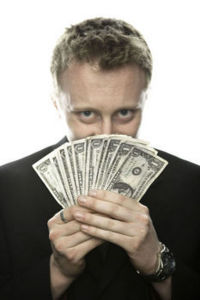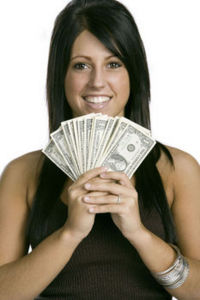 What is the Dollar Dance?
A popular tradition at wedding receptions is the dollar dance, also called the money dance or apron dance, this dance gives guests the opportunity to pay for a dance with the bride or groom. The DJ plays a series of shortened songs and guests line up with money. Typically, $1's and $5's are given, sometimes checks, sometimes big bills from important family members. The concept is that they are paying for the dance and the money is a contribution to their new life together as a married couple.
How to do the Dollar Dance
There are a couple of different ways...
The guests can individually dance with the bride or the groom for a minute and pin the bill on their dress/suit somewhere and they can pass on a little nugget of their wisdom.
A purse that is held by the Maid of Honor where the guests would deposit the money before dancing.
The Bride and Groom dance together and the guests go one by one and pin the money to their clothing.
Variations
Money Tree is a variation in which guests tied rolled up bills to the tree with a ribbon.
If you are uncomfortable with your guests giving you money in this way, you can have the Well Wishes Dance where your guests write notes of well wishes to you and the groom and pin those on your clothing while you dance together.
Well Wishes Tree is just like the money tree except written notes of well wishes.
Should You Have the Dollar Dance at Your Wedding?
Opinions vary significantly on whether or not to have a Dollar Dance at the wedding reception. Keep in mind that back when these traditions started that wedding gifts were not in the $100 range. Gifts were kept simple and sweet. If you're doing it simply because your wedding coordinator tells you that it is a fun idea, it would probably be best not to do it. On the other hand, if this is a family tradition, do it proudly and have fun with it.
Songs to Play
Your DJ can help in deciding which songs to play for the Dollar Dance but most any slow song will do, some favorites to play during the Dollar Dance are...
The Time of my Life by Bill Medley and Jennifer Warnes
That's What Friends are for by Dionne Warwick
What a Wonderful World by Louis Armstrong
Friends by Elton John
You've Got a Friend by James Taylor
If I had a Million Dollars by Barenaked Ladies
[edit]
Related Items
[edit]
Resources