Tips for Planning a Bachelor Party
From Giftypedia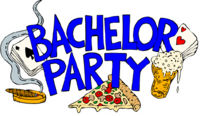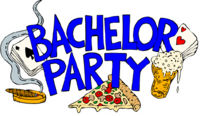 The best man plays an important role in the planning and preparation for the wedding day. There are
several responsibilities
and the honor of
planning the bachelor party
is typically given to the best man. This is your friends last night of "freedom" and you want it to be a memorable one. This party is for the groom-to-be and all his friends so there are many things to take into consideration so planning should not be done at the last minute.
Organizing the Bachelor Party
takes preparation to create a night that he will remember for years to come. Below are a few tips and
Bachelor Party ideas
that will help ensure that the groom-to-be has the best night of his "single life"...
Bachelor Party Tips
Start planning at least 6 months before the wedding to give yourself time to ensure that the night will be a night he will never forget. Also, the planning should be done closely with the groom, after all, this party is for him.
It is important to pick the date for the party as soon as possible so that you don't conflict with all the other wedding related parties and events. You can have a bachelor party a month before the wedding but do not plan this party the night before the wedding day. Many of the guests at the bachelor party will also be participating in or attending the wedding. The guest will need to be fully rested and look their best on the wedding day. The last thing that the big day festivities needs is a groom with pre-wedding nerves and a hangover.
This guest list should be put together by you and the groom. The groom will know who he wants to invite to the party.
Deciding the location the bachelor party will be held will determine how much preparation needs to be done. How many people will be attending can also help in this decision. Will the party be at someone's house, a restaurant, or a bar?
When choosing a theme, take into account the groom's personality. Is he the type that would like a wild night or just a simple get together with friends? Also, when choosing the theme, consider the guest who will be attending.
Decide what type of food will be served at the party. It is not mandatory that food be served and you probably won't be required to feed everyone but having some type of snacks or hors d'oeuvres will add to the festivities. The location can dictate what is available to the guest or you can have the party catered.
Here's where the fun comes in, the entertainment. This is where they type of guy the groom is comes into play. Respecting the wishes of the groom is important when deciding what and/or who will be the entertainment. Having an adult entertainment is a classic idea for a bachelor party, but many grooms-to-be are not comfortable with the idea. If you do decide to plan adult entertainment be sure the company is reputable and ask for references before scheduling; or opt for a night out at a strip club instead.
Whatever entertainment you decide upon the groom probably wouldn't object to you throwing in a couple of surprises. Some entertainment ideas include...
Scavenger Hunt - Make out a list of things the bachelor needs to do during the night out. The list of activities can be as racy or as mild as you want to create. Examples of scavenger hunt ideas: dance by yourself on the dance floor, obtain a specified number of phone numbers from hot girls, take a panty color survey from as many of the girls in the bar, etc.
Drinking Games - To get the party going play some drinking games like Quarters, Baseball, Anchor Man, etc.
If there will be alcoholic beverages being consumed at the party, designated drivers should be identified ahead of time. Choose your mode of transportation ahead of time; consider getting a limo, taxi service, or renting a large passenger van to transport the group around and to ensure that everyone gets home safely.
One more thing to remember, what happens at the bachelor party stays at the bachelor party!, and in that spirit, you may consider taking photos as everyone arrives then the rule should be cameras are not allowed.
Bachelor Party Themes & Ideas
Trip to Las Vegas - Plan for all of the groomsmen to splurge on a weekend trip together. This can get expensive but if you can swing it, there is nothing like a trip to Sin City. Other great destinations for a fun weekend trip with the guys is Atlantic City, Miami, New Orleans or New York City.
Adventure Bachelor Party - Get the guys together for an adrenaline pumping adventure, plan a day of fun and bonding or an action-packed weekend trip. Plan an adventure trip and spend your time immersed in thrilling activities: paintball, laser tag, go-karting, skydiving, cattle wrangling, whitewater fafting, zip lining, surfing, deep sea fishing, etc.
Into the Great Outdoors -For the groom-to-be that loves the outdoors and hanging out with his buddies then get the guys together for some camping, mountain climbing, hiking, hunting and fishing.
Movie Night - Plan a night of movies with the guys. Be sure to choose Guy Movies such as action, sports or movies that include a bachelor parties or guys-night-out shenanigans like Swingers, Very Bad Things, or Bachelor Party. Be sure to choose a menu that includes movie theatre food like nachos, pizza, popcorn and movie candy.
Sporting Event - If the groom-to-be is a huge sports buff then plan him a sports-themed bachelor party by either watching a sporting event or by having a sporting tournament. If you want relax and just watch the game then splurge for a skybox or suite complete with catered food. A more affordable option is to take over a few tables at the local sports bar and set back and enjoy the game, ordering large amounts of chicken wings and pitcher after pitcher of cold beer. For the competitive-types plan a sporting tournament be sure to have prizes for the winning team. After a winner has been declared, then head to a sports bar or back to the best man's home for some food, drinks and to swap funny stories about the groom-to-be.
Guys Love to Eat - Invite the guys out to indulge in a gourmet meal at a fancy steak house along with fine wine or beer, and if groom-to be loves fine cigars then what a great way to top off the meal than with a good stogie. For a more budget-friendly alternative, fire up the backyard grill and host a backyard bachelor BBQ, get the guys together to enjoy a smorgasbord of grilled meats along with a few cold ones they are sure to happy to relax and enjoy a good meal.
Related Items