Choosing and Preserving Your Wedding Cake
From Giftypedia
| | |
| --- | --- |
| Planning the wedding reception can be stressful, and picking the perfect wedding cake is extremely important, since the cake will be a focal point at your reception. The wedding cake is a special part of the reception, that memorable moment as the bride and groom cut the wedding cake and feed each other is a moment that will be remembered for years. Selecting a wedding cake is not as easy as just walking into any bakery and placing an order. There is a wide variety of shapes, sizes, designs, frosting types, and fillings to choose from it can be difficult to make a choice or even know where to start. Below are some helpful tips that can help when picking out a wedding cake. | |
Tip #1 Find the Right Cake Baker

Ask around for recommendations, talk to friends and family they can offer insight on bakeries where you can begin your search. Just as the search for wedding venues and wedding dresses begin as soon as a date is set so should your search for the person that will create your cake. Call the bakeries and pastry chefs to schedule an appointment, depending upon the bakers you may need to schedule as far as 6 months to a year prior to your wedding date. Setting up appointments gives the baker time to get prepared to let you taste examples of their work and have pictures on hand of other wedding cakes they have created.
Tip #2 Be Prepared When Meeting Cake Designers

Before your meeting with a cake baker have an idea of what you would like to incorporate into your cake design. You can find ideas from wedding magazines, books, and wedding websites. If there are designs such as from your wedding dress, specific colors, flowers, or themes that you want your cake to coordinate with make sure to bring photos to show the cake baker. Be sure that you are able to provide the cake baker the serving style of your reception (buffet or servers), date, time, location, approximate number of guests, and your budget. Make sure that you check the cake baker's references and insure that they are licensed with the town and state; also verify that they have liability insurance.
Tip #3 Factors to Consider When Picking Wedding Cake

When deciding on what type of cake frosting to use keep in mind the location of your wedding. If you are having an outdoor wedding the hot temperatures must be considered when choosing your frostings, stay away from using whipped cream, meringue, or butter cream frostings. Fondant icings hold up better in warm temperatures, if you have your heart set on yummy butter cream icing then have the cake decorator use butter cream frosting and then cover with fondant icing. Talk to your cake decorator about the what types of frostings are best for with the weather, they will be able to give their expert opinion on what choices are best. The size of your wedding cake will be determined by the number of guests. The wedding cake can come in many different shapes such as square, round, or heart shaped. The number of tiers can be decided upon by the servings needed and the tiers can be displayed together or separated. Wedding cakes come in several different flavors and you can also add different fillings having tiers of different flavors will offer your guest choices. When meeting with your cake baker be sure to taste the cake and the frosting to find the perfect combination and so you will know just what will be served to your guests.
Tip #4 Read the Fine Print on the Cake-Designer Contract

When you have decided upon a cake baker it is time to sign the contact, but before signing make sure that you know what is included. Take advantage of delivery, but make sure you know what is included with the fee. Be sure that the contract clearly states who will be delivering the cake and what time it will be delivered. Make sure all of the agreed upon details are stated with the contract such as cake flavor, shape, number of servings, and any special detailing. If you are renting any item such as cake topper, tables, or stands. Make sure that the total price is shown along with deposit amount, additional fees, and date of the balance due. Make sure that it includes cancellation polices if you cancel order, or if the baker cancels. Be sure you understand the cake bakers polices along with forms of payments that are accepted. Be prepared to pay a deposit when the contract is signed, most bakers will want a certain percentage to be paid typically anywhere between 20 to 50 percent. The cost of your cake will be calculated on a per slice price and by how many guests will be at your reception. Make sure that your cake baker knows if you are planning on saving the top layer of your cake for your anniversary.
Preserving Your Wedding Cake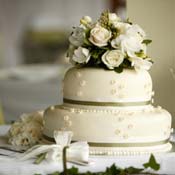 Put someone in charge of the top layer of your cake during your reception.
Have them take the top tier and place it in the plastic container. Before placing the cake in the container line the bottom with a layer of mini marshmallows.
Make sure that any sugar decorations are removed from the cake.
Refrigerate the cake layer, make sure that the cake is chilled well so that the icing has time to harden.
Remove the cake from the container and wrap the cake with several layers of plastic wrap to prevent freezer burn. DO NOT USE ALUMINUM FOIL!
Place wrapped cake back into the plastic container and pour mini marshmallows around the sides and on top of cake, making sure it is covered.
Place lid securely on the container then place the container in the freezer.
Consider Wrapping the container with a ribbon and placing a note that states do not open. Store the cake in the back of the freezer so that people are not tempted to open the container. The fewer times the container is opened the fresher your cake will be when it is time to open and enjoy the cake.
Some cakes do not freeze well for long periods of time. You may want to consider enjoying your frozen wedding cake a month to three months from the time it was frozen. Then when you reach your 1st anniversary order a cake the same flavor as your wedding cake, and you will be sure to have a delicious a fresh cake to enjoy on your special anniversary.
When your anniversary arrives, remove the cake from the freezer and thaw in the refrigerator for 48 hours. After 48 hours remove the cake from the refrigerator and let it site at room temperature for 2 to 3 hours.
[edit]
Related Items