Tips on Planning a 1st Birthday Party
From Giftypedia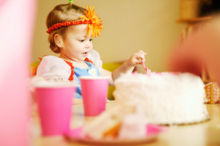 Planning your child's 1st birthday party can be an exciting and stressful time, especially for first time parents. The first birthday is a celebration of an important milestone and should be a memorable event. Planning a 1st Birthday Party can become overwhelming below are a few tips that will make planning for your child's big day a piece of cake.
Tip #1 Start Planning Early

Start planning the party about 6 weeks to a month before the event. Starting early will give you plenty of time to make all the preparations, will help to reduce stress leading up to the party, and will give you time to shop for party supplies without a sense of urgency.
Tip #2 Picking a Theme or Not to Theme

The theme doesn't have to be extravagant, it should be simple and something your child enjoys. Deciding on a theme will help in the planning process and will make all the other details much easier to plan for. If you choose not to have a theme decorating with solid bold colors will keep the decorating simple and the children will enjoy the fun colors.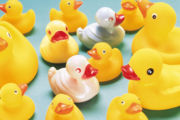 Popular First Birthday Party Themes

Baby Einstein Party
Teddy Bears
Rubber Duckies
The #1
Tip #3 Timing is Important

Choose a time of the day when your little one is typically happy, between nap times is the best. Scheduling the party between late morning and early afternoon is generally the best time. Set a start time and an end time for the party, and keep the party short from 1-3 hours.
Tip #4 Pick the Right Location

Keeping the guest-of-honor comfortable is important when choosing a location. Make sure to choose a location that is large enough for all the guests and that your child is familiar with such as your home, a friend's or family members home, or a local park.
Tip #5 Keep the Guest List Small

The first birthday party is a special moment that your little one will not remember, but an exciting and memorable celebration for the guests. Family, close friends, the people that are an important part of you child's life. If you are inviting children that may be regular playmates of your child keep the group small 1-5 total.
Tip #6 Make the Invitations Special

The 1st birthday celebration is a special event having memorable and cute birthday invitations will show your guest how important this day means, and many guests will hold onto the invitations as keepsakes. Make sure that whatever style of birthday invitation you choose that they are mailed 2-3 weeks before the party. Make sure to include self address stamped envelope for your guests to reply.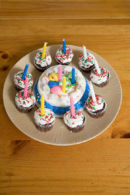 First Birthday Party Invitation Ideas

Photo T-Shirt Invitations

You can make these yourself or have them custom printed, be sure to include all of the pertinent party information on the back of the shirt, and on front a photo of your child along with Birthday Girl or Birthday Boy.

Balloon Invitations
Number One Invitations

Make reprints of a current photo, then cut large number ones out of construction paper, write the birthday party details under the heading "Look Who's Turning 1"
Tip #7 Keep the Menu Tiny

Choose a a simple menu with a variety of finger-foods and fun-shaped foods. Consider a variety of sandwiches cut into fun shapes, animal crackers, bite-size fruits, cheese cubes, etc. Don't forget about the adults, just serve them the same menu in larger serving sizes or add few simple menu items just for the adults like a vegetable tray with dip or chips and salsa. For the birthday cake have an small individual cake just for the birthday boy or girl to eat, or to enjoy squishing and making a mess. Then have cupcakes for the guests. To make cleaning of sticky faces and hands easier you may want to choose a yellow cake with white icing.
Tip #8 Keep it Fun

Have a few activities for the kids to enjoy like finger painting, coloring, schedule someone to do face painting or a balloon artist, be cautious with the balloons as they can be a chocking hazard. Keep the activities simple so not to overstimulate any of the children. Don't forget the adults you may want to have a few fun activities like Baby Bottle Bowling or have the guests bring baby pictures of themselves, then play Guess the Baby Picture.
[edit]
Related Items