Kindergarten or Preschool Graduation
From Giftypedia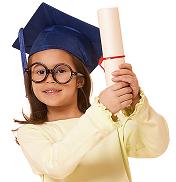 Some people view Preschool or Kindergarten Graduation as a big milestone in a child's life. They are moving up from the 'baby' years to the real school.
Kindergarten or Preschool Graduation Ideas
Instead of the term "graduation," some teachers and parents prefer a less formal term, such as recognition, celebration, end of year, or moving up. These occasions are still celebrated on the last day of class, and can include a party, ceremony, noteworthy achievements, all-inclusive participation awards or certificates.
These graduation parties can vary in their level of formality. Some people prefer a traditional graduation with caps, gowns, and diplomas. Some ceremonies skip the cap and gown but keep the diploma or certificate.
Make Your Own Graduation Ceremony Items
Paper Cap or Mortarboard
Graduation Certificate
Memory Book
Tribute Banner
Graduation Cap Cookies

Gifts for Kindergarten or Preschool Graduation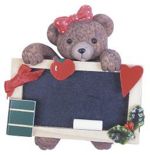 Memory Gifts – Items friends and teachers sign. Stuffed animals made from special material that include a pen. A collage of photos or cutouts of the places you visited during the year.
Keepsakes - A framed class picture or teddy bear in their school colors.
School Supplies - A backpack or supplies for going to "Big School" next year.
A Big Cookie - Decorate a big cookie with a smiling face to show how proud you are of them.
A Caricature - Create a caricature of the graduate in their cap and gown, participating in their favorite activity or going into the "Big School" next year.
Gift for the Teacher - Show your appreciation for all they did for you during the last year. The whole class can go in together for a nice personalized gift that conveys your gratitude for all of their attention and support.

Don't forget the Thank You notes! You can get preprinted cards and have the child sign their name for a personal touch.
Related Items