Welcoming a New Neighbor to the Community
From Giftypedia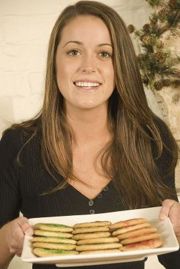 Moving to a new community, whether it's around the corner or in another country, naturally causes apprehension in many of us. Picture this: your family is the latest arrival in the neighborhood and undoubtedly you're anxious about a few things, such as finding your way around a new area, starting a new job, or maybe even caring for a sick parent. Perhaps you've even had to give up a cherished pet! And if you have children, your worries may be amplified; you're probably concerned about how the move may affect their grades or if they will have trouble making new friends. Add to all this the hassle of actually getting unpacked and settled in. Moving is no fun, and it can be doubly hard if your new neighbors seem unfriendly, unapproachable, and even hostile.
On the other hand, as someone who's lived in the neighborhood for a while, you may be a little apprehensive as well. "Who are these new people," you may wonder, "and what will it be like to live around them?" There are some very simple, fun, and thoughtful ways to welcome a new family to the neighborhood while at the same time putting your own mind at ease.
Some communities have a tradition of greeting new neighbors right away (as they are moving the boxes off of the truck) while some prefer to let people get settled in first. Either way, it's nice stop by and say hello, even if you do not bring a welcome to the neighborhood gift on the first visit.
Why not organize a block party and meet everyone at once? The fourth Sunday in September is National Neighborhood Day.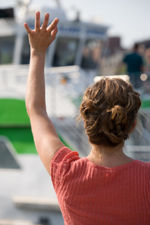 Smile heartily, wave enthusiastically, and say hello!
A warm smile, an enthusiastic "hello," and a hearty wave may be the best welcoming gift of all, and it's certainly the least expensive! How many of us watch new people move into our communities and never speak to them? Sometimes we live amongst people for years and don't even know their names! In situations like these it's best to remember the old saying that your mother drilled into your head as a kid: treat others how you would want to be treated. Think about how good it feels to see a friendly face in the audience before making a presentation or while attending a party where you don't know anyone else. Waving and saying hello are the most basic forms of acknowledgment, and also the simplest way to welcome new neighbors with a language barrier.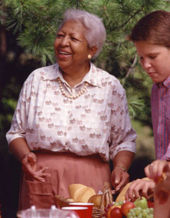 Host a cookout.
Nothing says hospitality more than the sound of laughter floating from your backyard, the hubbub of children playing, and the tantalizing smell of food on the grill! After you've given your neighbors time to get settled in, invite them and a few other families over and host a barbecue (just be sure to confirm everyone's dietary needs first). This is the perfect way for the adults to enjoy some laid-back, light-hearted fun while the kids hang out. Besides, who can resist the heavenly smell of food sizzling on the grill?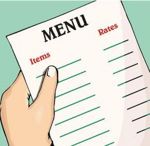 Why not put together an assortment of menus from your favorite restaurants to present to the new neighbors? These could be menus that you already have lying around, or you can pick some up as you go about your usual errands in the neighborhood. Most likely, the new residents will appreciate this thoughtful welcoming gift on a night when they're tired of unpacking and just want to relax with some good pizza or Chinese food.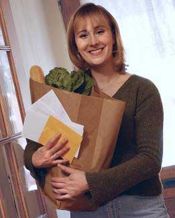 If your neighbors are elderly or disabled, offer to help out.
Whether you offer to help rearrange heavy furniture or do odd jobs like shoveling snow, nothing will endear you to your neighbors more than your offering a helping hand! Just be sure to offer only what you are actually prepared and willing to do.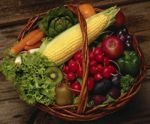 Bring them fruits or vegetables from your garden.
If you are blessed with a green thumb and have an abundance of veggies or fruits from your backyard, why not share some of your tasty good fortune with your new neighbor? Almost everyone can appreciate the joy of seeing, smelling, and tasting fresh food, and you'll also feel good for having shared your bounty with someone else. One great way to give a gift of fruit is by making a fruit bouquet.
Put together a "fun-pack" for the kids.
It's sometimes difficult to handle the responsibilities of setting up a new household when you have small children underfoot who are too young to pitch in. You can help out by piecing together an activity box of entertaining items to keep the children amused and out of the way while Mom and Dad are unpacking. This could include coloring books and crayons, markers, inexpensive toys or games, and juice boxes. The parents will be sure to thank you for it then and later!
Present them with a picnic basket with wine, fruit, and cheese.
What better way to help your new neighbors unwind than with a gift of a good wine, perhaps some grapes or strawberries, and a delicious cheese? Help make it easy for the new folks to relax in the middle of the floor and find some peace of mind amidst all the boxes and chaos. But be forewarned: since at this point you probably don't know if your neighbors are teetotalers, it may be wise to proffer sparkling fruit juice or cider instead of the wine.
The home and garden gurus at HGTV.com offer more fun and creative ways to reach out to new neighbors[1]:
Make your new neighbors a coupon for a tour of the neighborhood that can be redeemed at their convenience.
Make a binder for the children with pictures, names and ages of all of the other neighborhood kids. Include a calendar for setting up play dates.
Make a list with all of the neighbors' addresses and phone numbers and put it in a three-ring binder for the new folks on the block to use as a reference.
Bake a casserole that can easily be frozen or refrigerated for dinner that night or next week. Put it in a disposable aluminum tray so they don't have to worry about returning your dish. Or you could include a new dish as a housewarming gift.
Other possible gifts include a welcome mat or new house numbers for their mailbox.

Armed with these handy tips and thoughtful gestures, you'll have no trouble making your new neighbors feel comfortable in their new surroundings, and you may have even made a new friend. And isn't that really what being gifty is all about?
Related Links
References