Tips for Planning an Academy Awards Party
From Giftypedia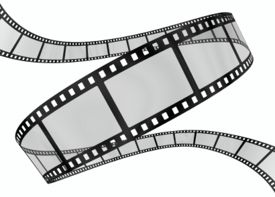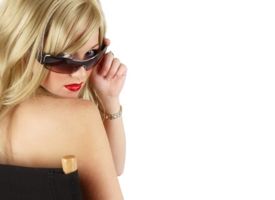 Hollywood Fever and the Oscars
It's that time of year again! If you are one of millions who congregate in front of your TV for the Oscars, why not invite your fellow "movie buffs" to share in the excitement? Critique the celebrities as they step on the red carpet, rate their speeches, and let your opinion be known as to "what not to wear!" Go ahead, pull out your best linens, china, and silver trays. Add some glamour in your life - have an Academy Awards Party!

Academy Awards Party Tips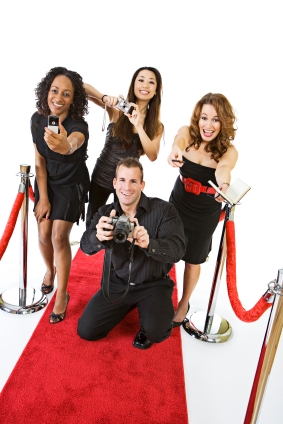 Casual or Formal?
First, decide on the type of Academy Awards Party you wish to have. Do you love to dress up and pull out your finest serving pieces? If so, host a formal event. However, if "glitz and glamour" are not part of your vocabulary, and you prefer popcorn, jeans and bean bag chairs - then host a casual party. Either way, with these ideas, your party is sure to be a success!
Choose your Invitations
For black tie affairs, you can purchase (or make) invitations to look like little tuxedo jackets. For more casual parties, movie ticket invitations are popular, as are VIP passes. Make sure you specify formal or casual so your guests will dress accordingly.
Set the Stage
Just as in the movies, the event must be staged. One "must have" - red carpet runner - truly representative of the Oscars! Roll out the carpet for your guests. Announce your guests as they arrive. If they are dressing the part, snap a picture as they arrive. These can be printed off and given as favors, or given later as a "thank you" for attending. Be sure to ask what designer they are wearing!
Colors are generally black, gold or silver. Cut out silver and gold stars. Tape to the wall or hang from the ceiling. Old camera film can be unrolled and draped along the wall. Use glitter for that look of "glitz" and scatter confetti along the buffet table. For the budget conscious, use streamers with black, white and silver balloons for optimal impact.
Arrange ample seating in rows. Be sure to elevate the TV to make sure everyone has a clear view. Record movie soundtracks and play as background music. [1]
Cocktails
If you want to drink like the stars, serve cocktails and champagne. But if your crowd prefers beer, then serve beer - even non-alcoholic drinks are fine. The point is enjoyment - relax and enjoy the great lines in movie history. Remember this one, "shaken, not stirred?" And for the slightly more mature crowd, "Here's looking at you, kid!"
Hollywood Martini[2]
Red Carpet Tequila Cocktail [3]

3 oz vodka
1/2 oz black raspberry liqueur
dash of pineapple juice

Pour the ingredients into a cocktail shaker filled with ice.
Shake well.
Strain into a chilled cocktail glass.




11/2 oz Patrón Silver Tequila
1/2 ounce Patrón Citrónge Orange Liqueur
fresh raspberry juice
dash organic cranberry juice
fresh lime juice
gold sugar rim
orange wedge dipped in gold sugar for garnish




Wet the rim of a cocktail glass using an orange or lime wedge.
Rim the wet with gold sugar, shake off excess sugar and set aside.
Pour the liquid ingredients into a cocktail shaker filled with ice.
Shake well.
Strain into the prepared cocktail glass.
Garnish with an orange wedge dipped in gold sugar.
Games
Games provide entertainment and get the party started. Create ballots listing all nominees. Pass out to your guests upon arrival and have them predict the winners. Organize a trivia contest to see who is most "in the know." Prizes could be little Oscar statuettes, available online and in party stores, sound tracks from nominated movies or DVDs from last year's winners.
Create a make-shift podium . And to close...acceptance speeches from the winners, of course!
Favors
When the night is over, send your guests home with a memento from their night of glamor. Bags of popcorn, movie candy, plastic sunglasses or rhinestone necklaces for the ladies are good ideas for favors.

People love movies. An Academy Awards Party is a fun party theme that all types are sure to enjoy. So what are you waiting for?
Related Links
References