Tips for Planning a St. Patrick's Day Party
From Giftypedia
St. Patrick's Day
celebrations include parades, wearing of the green, music and Irish food. All the ingredients for having fun and for
planning a St. Paddy's Day party
that will make your friends
green with envy
. Here are some tips for planning a
St. Patrick's Day celebration
that will have your guests searching for the pot of gold and kissing the blarney stone before the evening ends.
St. Patrick's Day Party Planning Tips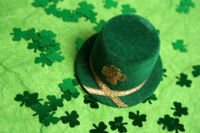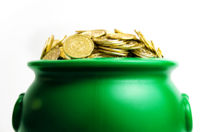 Decorations
With a theme as specific as St. Patrick's Day, the decorating should be easy. Think green, all shades of green.
Most florist will have green flowers, such as carnations, to create centerpieces.
Use green tablecloths, plates, napkins, and utensils.
Sprinkle the tables with shamrock confetti.
Arrange little "pots of gold" around for your guests to discover (gold pieces can be gold foiled covered chocolates.)
Put green bulbs in the light fixtures or stream green Christmas lights around.
Hang cutouts of leprechauns and shamrocks.
Green and gold balloons.
Create posters with Irish sayings. (these can be incorporated into games)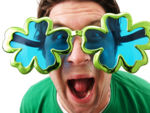 Party Favors
You can find St. Patrick's Day party favors at any party store or on the internet. Below are just a few suggestions for party favors. Basically, anything that is green, Irish themed, shamrocks or leprechauns, beer themed, etc. would be great for party favors.
Green Leprechaun Hats
Shamrock Glasses
Green Bead Necklaces
Packages of Green Jelly Beans or M&M's

Green Boas
Lottery Tickets
Irish themed/Shamrock Tiaras
Shamrock Temporary Tatoos

Kiss me I'm Irish buttons
Green Mustaches
Shamrock Drinking Cups
Four Leaf Clover Plant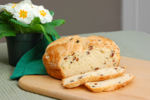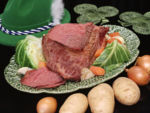 Food and Drinks
A typical Irish/American dish is Corn Beef and Cabbage. This dish is easy to cook and will certainly get your guests thinking Irish. Soda Bread is also a traditional Irish staple and you can have Irish cheese served with a crispy bread or crackers for an appetizer. Cupcakes with green icing and Irish themed decorations, cookies cut in the shape of a shamrock, key lime pie, and green Jell-O would all be festive foods for the party.
You don't have to stick with traditional Irish fare. Almost any food can be green with a little food coloring. That is if your guests would not mind eating green foods that are not naturally green. Add green food coloring to dishes like Mashed Potatoes or Mac-and-Cheese. Try mixing in some naturally green foods like asparagus or spinach to balance the menu.
Of course the most authentic Irish drinks would be Irish whiskey or a pint of Irish beer. With a little "greentivity" you can create many festive beverages for the party. A St. Patrick's Day Party Punch with lemon-lime soda and lime sherbet would be fun for the kids and Irish coffee for the adults. You can also add green grenadine to clear beverages and lime Kool-Aid would make excellent options for drinks.
Don't forget the Irish toast in keeping with the spirit of the holiday...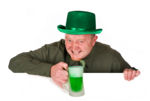 May the winds of fortune sail you,
May you sail a gentle sea.
May it always be the other guy
who says: "this drink's on me."

Some may say the glass is half empty,
Some may say the glass is half full,
But the Irish will forever say
"Are you gonna drink that?"

Here's to me, and here's to you,
And here's to love and laughter-
I'll be true as long as you,
And not one moment after.
Entertainment
Irish music playing in the background will get everyone thinking Irish. CDs with Irish folk and traditional Celtic music should be available at your favorite music store.
Many games can be given an Irish twist. Games like, Irish Trivia, Name that Irish Tune, Pin the Shamrock on the Leprechaun, a scavenger hunt for the Pot of Gold would certainly be enjoyed by your party guests. An Irish Jig dancing contest or a contest on who can make the best green libations, are also popular St. Patrick's Day party activities.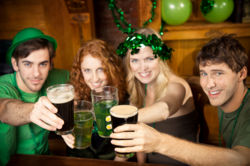 "May the Leprechauns be near you,
To spread luck along your way.
And may all the Irish angels,
Smile upon you on St. Patrick's Day."
Related Links