Birthday Party Invitations
From Giftypedia
| | |
| --- | --- |
| | Planning a birthday party for a child or an adult can be intimidating. Making the celebration special and a memorable event takes planning and creativity. Your budget does not have to be large to make the celebration special, just make it personal. Making the party personal begins with picking a theme, this should be simple just consider their hobbies, likes and dislikes, if they play sports, etc. Incorporating the theme into every aspect of the party makes the celebration a personalized event. Creative Birthday Invitations are a way to set the tone of the party and create anticipation for the guests. Here are a few tips that will help to make sure you have the perfect birthday invitations. |
What information to include on the invitation?
Date, time, location including directions
R.S.V.P. information including the contact person, date to call back by, telephone number or email
Inform the guests if there will be an open bar and if you'll be serving lunch or dinner and if they need to bring a dish to share
Dress code and if the guests should bring anything (i.e. towels, swimsuits, wear costumes, etc.)
For a kids party make sure to let the parents know if they can drop-off their children or they need to stay
If no gifts are being accepted, or if the guests are to give charity donations in lieu of gifts.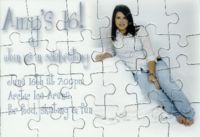 Unique Birthday Party Invitations
Golden Ticket Invitations like from Willy Wonka & the Chocolate Factory
Balloon Invitations guests will to have to blow up to read, or put the invitation inside the balloon and they have to pop-it to get their invite
Puzzle Invitations these are great keepsakes for the guests
Message in a Bottle Invitations these are perfect for a beach-themed party
Movie Ticket Invitations these are perfect for a Hollywood-themed or Movie-themed party
Newspaper Headline Invitations are a fun way to get the news out about an event
Glow-in-the-Dark Invitations spray with glow-in-the-dark paint and your guests faces will glow when they get their invite
Custom Photo T-Shirts these are perfect for any birthday party, especially the 1st birthday, and will make great keepsakes for the guests
Related Items