Yard and Garden Bridal Shower Party
From Giftypedia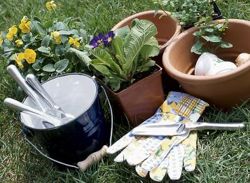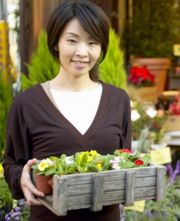 Each guest or couple usually brings a gift that can be used for the garden, yard, patio or balcony if they are apartment dwellers. His and hers shower gifts can range from hammocks, to putting greens, to tiki torches.
Since this type of couples bridal shower is usually thrown by a friend rather than a relative of the lucky duo, don't be afraid to recruit as many friends as possible to help with planning and decorating for the Garden Themed Co-ed Wedding Shower.
If you know any Tailgaters, they have good organizational skills for coordinating food and outdoor party games. A tailgating fanatic will already have a lot of the outdoor supplies you'll need such as a portable tent, gazebo or canopy as well as grilling accessories. Below are some more tips and advice that will help with planning for the joyous event.
Tips for Planning a Couples Bridal Shower Garden Party
Location
Ideally this will be an outside affair held in a back yard, porch or patio. If the couple have a small apartment then you should consider holding the party at a park or restaurant. Since this is a more informal shower, choose somewhere that is comfortable and convenient.
Guest List and Invitations
Men may have reservations in attending anything called a "bridal" or "shower" party. Try using a different name like Prenuptial Party or simply name it after the chosen theme.
Look for invitations with a couples or His and Hers theme. Go with the theme of the party and look for invitations that include gardening, tools, BBQ or whatever the main theme of the party might be.
Consider including both a starting and ending time on the invitation. This relieves the awkwardness of people who don't want to be seen as leaving too early and discourages the lingering guest that can't take the hint and just won't leave.
A co-ed bridal shower is generally a more informal affair than the traditional bridal shower, so be sure to invite lots of friends. There should be an even mix of friends and family from both the bride's and the groom's side.
Co-Ed Garden Party Shower Themes

Luau or Island

Starry Night

Fiesta

Favorite TV Show

Dog Day Afternoon (bring your dog)


BBQ

Clambake

Red, White and Blue

Black and White

Favorite Sports Team

Favorite or Silly Hat

Menu
The menu can vary depending on the party theme or location. Since these are often outdoor affairs, choose food that is picnic or tailgate friendly. Cookouts are great if you know a good cook. A buffet is always a good choice, and you can spread out the cost by making it a potluck or at least spread out the responsibilities for different items.
Decorations
You can go all-out and buy all of the party decorations to match your bridal shower theme or you can be thrifty and creatively use as much as you already have.
Candle Centerpiece - Use a tray, platter or shallow baking dish. Place the candles in the dish and surround them with sand, rocks, marbles, acorns, whatever you have. If it comes from the yard of the party's location people with really appreciate the effort.
Use String Lights - Wrap lights around trees, potted plants or house columns. Hang them from branches, the edge of the porch, along a fence or around balcony railing.
Fiesta or Chile Head Decorations - Decorate with coordinating items using a lot of red. You can get plates, napkins, swags and outdoor lights in a chile pepper theme. You can even find a chile pepper pinata!
Games and Activities
Plan for several different activities for differing interests. While some may like a spirited game of volley ball or badminton, others may prefer to sit back and watch while chatting with friends.
A raffle can be a good way to get everyone to participate. Guests can bid on the items to be raffled off. This can be used to raise money for the couple or you can trade play money for IOU's as favors to be redeemed later.
Since a Jack and Jill Shower is an informal affair, consider skipping the silly bridal party games. Guys won't go near anything that "girlie"!
Opening Gifts
Opening gifts can be an uncomfortable time during a party. If someone has a risqué gift that may be inappropriate for the extended family gathered, be sure that the giver understands that these will be opened later.
Favors
Yard and garden party favors can be purchased, personalized, or created on a budget. This is another area where it is best to get several friends together to produce some shower favors that your guests will actually remember.
Mini pails with a tealight or votive candle.
Frisbee customized for the occasion.
Cut-out cookies decorated with butterflies, bees, flowers or other outdoor theme.
Party themed or personalized drink koozies or huggers.
Homemade jars of salsa.
Yard and Garden Shower Gift Ideas
Green Thumb - Live plants, seed packets, lawn and garden store gift cards.
Black Thumb - For people who can't even keep a cactus alive. Fake plants, self-watering planting containers, automatic watering systems, funny garden signs like "Weed Patch of the Month".
His & Hers - Coordinate the couple's gifts so that there are two of everything - one for him, one for her.
Lawn Games – Croquet set, horseshoes, volley ball set.
Garden Gadgets or Tools - Whimsical sculpture, outdoor lantern, birdbath, bird feeder, citronella candles or tiki torches, decorative bench or arbor.
Garden Gift Basket - A gift basket can be created using a plastic bucket, metal pail or watering can with small gardening tools inside – hand spade, kneeler, weeder, hand soar, poison ivy cream, bug spray, protective eyewear, gardening hat, water bottles, gloves, or clippers.
Pet Lover Gifts - Help the pet and help the owner with a dog house, dog water fountain, doggie door "cat flap", outdoor dog bed or hammock, play pen, kiddie pool for cooling and bathing.
Co-Ed Shower Group Gift Ideas - Share the expense of large ticket items: Lawn mower, weed eater, grill; power washer, fire pit, ladder; deep/turkey fryer, koi pond kit, fountain kit; outdoor speakers, patio heater, gazebo kit, arbor, pop-up canopy, outdoor screened room.
If large items like a lawn mower are selected as a gift, giving the lucky couple a picture of the gift in a card would be easier than hauling it to the party.
Related Links