The Great Outdoors Couples Bridal Shower
From Giftypedia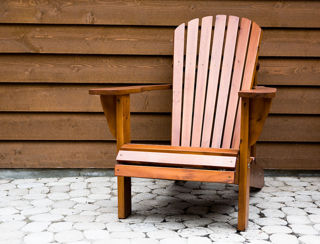 It is commonly thought that the Bridal Shower started as an alternative to the dowry. Friends and family would put small gifts in parasols that were opened over the bride's head. Another legend tells of a young Dutch girl who loved a young Dutch miller. The miller was so generous to the poor that he could never save a fortune for himself. Since the young man was not rich, the maiden's father disapproved of the match and refused to give her a dowry. But the village folks, and the young people, had desired their marriage. To make up the girl's dowry, each villager brought some treasured possession of his own until a chest had been filled with all household goods that a bride should bring to her new home. With these contributions, they 'showered' the maiden until even her father was won over. From that day to this, it has been the custom for the bride's friends and family to present her with gifts for her new life.[1]
Well, as times have evolved, so has the bridal shower. Today's bride wants her man included in the pre-wedding merriment! The 21st century couple loves to spend time outdoors, whether it's for entertaining others or themselves. Having a Great Outdoors Couples Bridal Shower is a great way to supply the couple with the furnishings or recreational equipment they will need to enjoy the outdoor life together.

Tips for Planning a Great Outdoors Jack and Jill Bridal Shower
Location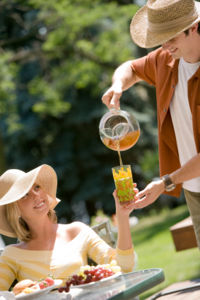 If the couple being celebrated spends most of their time outside rather than in, a Great Outdoors Shower is the perfect theme for them. It goes without saying that this shower is one that should be thrown - where else? - outdoors! Whether refined or casual, your location options are nearly endless, and all are guaranteed to create a memorable event.
Before choosing your venue, think about the couple's interests. This will help you as you begin to make your plans. Are they elegant? Choose a pool, patio or even a golf, or country club setting for your location. Other beautiful spots would include a vineyard or yacht. Are they casual? Make it a backyard or lakeside event. Sporty? Try your local parks, tennis courts or beaches where guests can play some outdoor games. Pick anything or anyplace that the couple loves and center the whole shower around an activity related to it! If they love rock climbing, hold the party at a local indoor rock climbing spot and ask guests to bring climbing gear as gifts. If they have a penchant for water sports, arrange for group windsurfing lessons, kayaking or simply have a party on the sand.[2]
Outdoor events are always beautiful, but remember to consider a back up plan if the event turns awry due to a change in weather. Most hotels, restaurants and resorts will provide a back up - provided that you ask ahead of time what could be done in the event of inclement weather. If a park is chosen as your site, shelters are often available for advance rental as well. Find out what preparations need to be made in order to secure your site. Often, outdoor venues require come type of permits or fees. Remember, too that alcohol is often prohibited at public parks and recreation areas.

If you're short on money, consider hosting a "camping trip" in your backyard, complete with tents, sleeping bags and a bonfire! Once you've chosen the perfect setting, it is time to build your party.
Guest List and Invitations
The style of your party will dictate the type of invitation to be sent. If you want to get creative, consider hand delivering a bottle of wine with a written invitation hung around the neck. Want something more casual? A paper or cardboard fan can be either purchased or crafted with the information printed on one side and a photo of the couple on the other. You could simply choose paper colors that bring to mind the color of trees, bark, sky, etc., or you could opt for a photo of a beautiful outdoor location, perhaps even the site you have chosen for the event for the cover of the invitation. [3]
Menu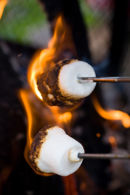 Keep it simple, no matter the theme.
For a sophisticated soiree, a lovely selection of wines, cheeses and fruits would be light and fitting. To satisfy the men, you may want to consider adding some fine cuts of grilled meats such as pork or beef tenderloin. Grilled fresh vegetables or a variety of salads will add to the outdoor feel and be appreciated by all.
For the relaxed gathering, a potluck style dinner is perfectly appropriate. Ask your guests to bring along a recipe of their dish for the new bride and groom. Cookout classics are always a hit - be it burgers, kabobs or even hot dogs. Top the night off with a roasting of marshmallows, and pass out graham crackers and chocolate bars to make smores.
If you live in the south, consider a low country boil, a crawfish boil or a pig pickin'. On the eastern seaboard? How about a clambake? Play up the region's indigenous delicacies. Your guests will love the down-home feel these regional parties create.
Decorations
If your event is held in the evening, outdoor lighting is key. Paper lanterns hung from the trees or floating candles in a pool can each make a stunning presentation. White Christmas lights look beautiful twinkling in the trees and bushes. For daytime and more relaxed settings, make use of the natural settings around you. Tables can be decorated with bouquets of wildflowers, herbs or a selection of pine cones. Instead of vases, use what's at hand: mason jars, pretty old bottles, or a collection of small pitchers. Weave a fern into a napkin ring. Make place cards for your guests with apples and cardboard.[4] Edible centerpieces are another unique concept that may be used in place of traditional floral centerpieces. A variety of breads and cheeses in a basket decorated with twine and a handful of flowers provide a delectable centerpiece.[5] Mismatched chairs always add to a laid-back feel. Fill galvanized buckets with ice and old-fashioned glass bottled drinks. Be eclectic and let your imagination run - your guests will appreciate your creative efforts.
Games and Activities
Remember that most men won't want to engage in traditional shower games. A couples bridal shower is the perfect opportunity to set up some coed lawn games like volleyball, softball, touch football or a game of horseshoes. Make sure you have a Frisbee® on hand! Croquet is perfect for guests who don't want to work up a sweat! If a pool or lake is on site, have some good old fashioned water fun. Or, hire a band or DJ. Feature dancing on the rocking chair front porch or boat dock. Once night falls, pass out some sparklers as a way to celebrate the honored couple's upcoming union.
Opening Gifts
Some hosts of coed showers find themselves skipping the opening of gifts because guests are having too good a time with other activities. Be prepared for this to happen at your couples bridal shower.[6] If you do provide time for the couple to open their gifts, be sure to have the bride and groom-to-be sit together, and allow them to both get involved with the opening of the gifts.
Favors
Shower favors should be small and inexpensive, yet fitting for the event. Remember that guys will be getting these favors as well, so keep the man in mind when choosing the types of favors you want to hand out to your guests. Consider making custom labels with the couple's name and place them on bottles of water or bug spray. If it fits your budget, give out nature loving poet and essayist Henry David Thoreau's "Walking" which can be purchased through amazon.com less expensively in paperback form to tie into your outdoors theme.[7] For something fun, personalized Frisbees® featuring the couples name can be ordered through usimprints.com.
Related Links
References