Tennis Themed Couples Bridal Shower
From Giftypedia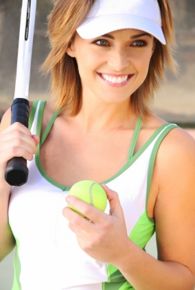 Bring on the Guys!
More and more couples are marrying later in life and already have the basic household necessities. The world is changing, and with it - the traditional bridal shower. When it is no longer necessary to "shower" the bride with the basics, many are choosing to include the guys and opt for a couples bridal shower. So how do you ensure that everyone, both male and female, has a good time? Well, if your couple is into sports, a sports themed bridal shower is the way to go!
With today's emphasis on health and fitness, most men and women are participating in sports. Whatever activities the couple enjoys – biking, hiking, canoeing, rock climbing, volleyball, racquetball, or if they are simply spectators – the possibilities are endless. You might organize a golf tournament, a round robin of tennis, a game of volleyball, tag football or a night of bowling. You may decide on a tailgating party to watch the big game - or better yet, attend the game as the culmination of a sports themed bridal shower.
Gone are the days of the "frou-frou" bridal shower with punch, petits fours and impeccable manners. Today's casual life style allows young couples to celebrate life's milestones with their friends while participating in the activities they enjoy. Rather than the tea party scene, a couples wedding shower will put the men at ease. No longer just for brides, Jack & Jill showers are all the rage!
Tips for Planning a Tennis Couples Wedding Shower
Location
The location is easy - wherever there are tennis courts. For members, private neighborhoods and clubs provide a nice setting. Courts can also be reserved at local parks and public tennis centers. Most facilities allow you to bring food and beverages and set up on the grounds near the courts. Many have covered pavilions with tables, grills and outdoor ceiling fans to keep the bugs away - the perfect setting for an outdoor shower.
Guest List and Invitations
The guest list for a tennis couples bridal shower would target friends and family that have tennis in common. And the invitations? Tennis themed, of course. Invitations are available online and in party supply stores, or you can make your own. Make sure that the invitation clearly clues the guys in on the fact that this couples bridal shower will not be just another "ho-hum" event watching the honorees open presents.
Menu
One thing you must have for a successful tennis themed couples couples shower is food — and lots of it! Tennis creates a big appetite. Tennis showers are casual in nature and usually include heavy hors d'oeuvres or a casual meal. Finger foods that can be eaten between game rotations are a good idea. Hamburgers, hot dogs, and sandwiches that can be eaten without utensils work best. And, depending on the time of day, beer and wine are most often served.
Decorations
An outdoor sports themed shower requires minimal decorations. Decorating the food table with a tablecloth and a centerpiece is all that is necessary. The centerpiece should be the focal point and can be either tennis themed or wedding themed. Consider a separate table for the gifts where you can focus more on the couple. Display a casual photograph or a tennis caricature of the couple on an easel. Instead of a traditional guest book, a signature tennis platter to be signed by the guests would be in keeping with the theme.
Be creative! You can make your own tablecloth by painting white lines on green or blue fabric to represent a tennis court. Arrange old wooden tennis rackets in a container to mimic a bouquet of flowers or use as trivets for the serving dishes. Cut tennis balls in half and glue to a coffee can (yellow side out) to make a tennis themed vase for flowers. With a little imagination, you can successfully combine the tennis theme with the pre-wedding festivities.
Games and Activities
For the couple who enjoys tennis, chances are their friends are also tennis players. Instead of traditional shower games, why not organize a round robin in keeping with the tennis themed couples bridal shower? A round robin provides the entertainment, is as much fun for the guys as it is for the girls, and eliminates the need for those sometimes "less than masculine" shower games.
What is a round robin? A round robin is a tournament in which each player is matched in turn against every other player. In a round robin tennis format, all players play each other and are ranked by their wins - most wins to least wins. The players with the most wins advance to play for the title.
Round Robin Rules
Based on 8 players:

2 groups of players
4 players in each group - group A group B
1,2,3,4 in group A play each other
1,2,3,4 in group B play each other
the two best in each group play each other
For doubles play, each doubles pair plays each of the opposing doubles pairs and the winning pairs progress to play each other.
Opening Gifts
Time to shower the couple with gifts! The gifts should be opened by the couple after round robin play. They can be opened as the guests are serving their plates and eating to keep the guests occupied. A tennis themed bridal shower suggests tennis gifts, although not required. The latest in tennis apparel is ideal – especially coordinating outfits for the couple. The tennis gifting possibilities vary from the more expensive; a ball machine, private tennis lessons, a tennis destination weekend - to the more affordable; a trendy tennis racket, court shoes, visors, tennis bags, sports sunglasses, water bottles and balls.
Favors
Favors are not always necessary, but it is nice to give each guest some small token of thanks for their attendance. Ideas would include tennis themed key rings, picture frames, sweat bands, tennis balls and visors. Tennis balls can be personalized with the couple's names and date of their wedding.
Related Links