Chrysanthemum
From Giftypedia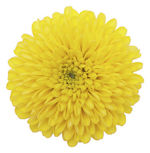 Chrysanthemum
The Chrysanthemum is considered to be the flower of November, and is the symbol for the 13th Anniversary of marriage.
About the Flower
Flower Meaning: With Love and Cheerfulness
A beloved attribute of the autumn season in North America, the Chrysanthemum, often referred to as a "Mum", is actually closely related to the daisy. Chrysanthemums are native to China, and have been cultivated there since the 15th century BC as a flowering herb. Brought to Europe in the 17th century, the flower was named from the Greek words "chrysous", meaning "golden", and "anthemon", meaning "flower".
In Asian cultures, chrysanthemum flowers are boiled to make a sweet drink known as "chrysanthemum tea", which is known to have many medicinal uses, including treatment for the flue. The flower's leaves can also be steamed or boiled, and used as greens. A chrysanthemum flower placed in the bottom of your drinking glass is meant to symbolize long life and happiness.
By sending Chrysanthemums as a gift, your message could mean many things, depending on the recipient. Various meanings include cheerfulness, you're a wonderful friend, rest; loveliness, abundance or wealth. In European cultures, the mum could also symbolize a scholarly isolation, longevity or death.
Colors they come in: Pink, red, white, yellow, mauve and orange.
Color Meaning of Chrysanthemums
| Color | Meaning |
| --- | --- |
| Red | I Love You |
| White | Truth, loyal love |
| Yellow | Slighted love |
Related Links