Gladiolus
From Giftypedia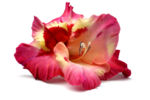 Gladiolus
The Gladiolus is considered to be the flower of August, and is the floral symbol for the 40th Anniversary of marriage.
About the Flower
Flower Meaning: Remembrance, strength and moral integrity
Sometimes called the Gladiola or the Sword Lily, this tall flower features long sword-shaped leaves, which is how its name originated, referring back to the days of the Gladiators. The flower now symbolizes strength of character or moral integrity. Native to southern Africa, the Gladiolus is a member of the Iris family. It is an extremely popular flower found in gardens due to it's beauty, fragrance and ease of growing.
Gladiolus can be found in nearly every color, except blue.
Fun and Interesting Facts
Gladiolus' are the most widely grown outdoor cut flower. They are often found in bridal bouquets and centerpieces.
Related Links