France Gift Giving Customs
From Giftypedia


Flag of France

Officially the Republique Francaise or French Republic,

Official Language: French

Currency: euro (EUR)

National Holiday: Fête de la Federation, 14 July (1790). Other names are Fete Nationale (National Holiday) and quatorze juillet (14th of July).

More French Holidays
Social Etiquette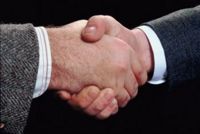 Always offer your hand for a brisk handshake, accompanied by an appropriate greeting. The French handshake is quick and light - no pumping up and down or strong grips.
Shake hands upon meeting, as well as when departing.
Les bises, or touching cheeks and kissing the air, is appropriate for social settings with friends.
Do not use first names unless invited to do so. Address strangers and senior people by their title, even if the title is simply Madame.
In France, gift giving is not a ritual, and is not expected, beyond the traditional birthday, Christmas, christening, wedding, or hostess gift. Flowers, good perfume, chocolates, wines, liqueurs, etc. are acceptable.
The "okay" sign commonly used in the United States (thumb and index finger forming a circle and the other fingers raised) means zero in France.
Do not discuss how much, or how little, you paid for something. The French consider this uncouth and uncivilized.
Corporate Gift Giving
Good gift selections can include coffee table books about your home country or anything that is representative of your country.
Holiday Cards can be an appropriate expression of thanks to your business associates. The French gift giving protocol is to send New Year's greetings and this can occur during the whole month of January but not later.
Avoid including your business card with a gift since it goes against French business etiquette.
French Business Card Etiquette
Business cards are exchanged after the initial introductions without formal ritual.
Have the other side of your business card translated into French. Although not a business necessity, it demonstrates an attention to detail that will be appreciated. [1]
Personal Gift Giving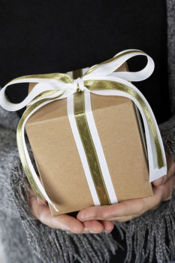 Gifts to Avoid
Gifts of flowers should be given in odd numbers, except that bouquets of 13 should be avoided.
White chrysanthemums or lilies, as they are for funerals, and should be avoided for other occasions.
White flowers, as they are used for weddings.
Yellow flowers should be avoided as they are a symbol of infidelity.
Red carnations, as they symbolize bad will.
It's usually best to not bring wine to a dinner party as the host/hostess typically expects to make the selection. If you give wine, make sure it is of the highest quality you can afford.
French Christmas Traditions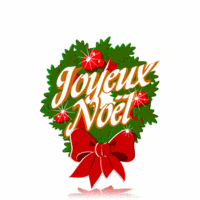 Christmas in France is called Noël. While the celebrations and customs of Christmas in France vary from region to region, the celebrations are a time for family and generosity.

A crèche or Nativity scene can be found in most French homes during the Christmas season. The crèche serves as the focus of the Christmas celebrations and is filled with little clay figures called un santon or little saints. Since the seventeenth century the molds to create these figures have been passed down from generation to generation. In addition to the Holy family, shepperds and Magi, figures of local dignitaries and characters are also created. At the annual Christmas fairs in December you will find these figures for sale in Marseille and Aix. Christmas is celebrated on December 25th in most provinces. Christmas Eve is the time when children place their shoes by the fireplace in hopes that Père Noël, Santa Claus, will leave gifts. In the morning the children will find small gifts, candy and sweets that have been hung on the tree. However, December 6th, in eastern and northern France is, la fête de Saint Nicolas, Saint Nicolas Day. Parents give their children gifts on this day instead of Christmas Day which is for the family dinner and religious services. New Year's Day is the day adults typically wait to exchange gifts.

The le Réveillon, or the Christmas feast, is usually after midnight mass on Christmas Eve. This is the grand feast of the season. The menu items vary from region to region but can be items such as turkey, goose, chicken or oysters. The traditional desserts include the La bûche de Noël, Christmas Log, Le pain calendeau which is the Christmas loaf.

The La Galette des Rois, or Cake of Kings is a cake to celebrate the Epiphany. The Epiphany is celebrated either January 6th or the first Sunday of the month and marks the end of the festive season. The tradition is that the cake has a trinket inside or a fève, a real fava bean, and whoever gets the trinket or bean in their slice is the King or Queen for the day.

Joyeux Noel!
La bûche de Noël Recipe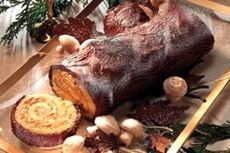 Ingredients
Directions

CAKE:

3/4 c. sifted cake flour
1/4 c. unsweetened cocoa
1 tsp. baking powder
1 tsp. vanilla extract
3 eggs
3/4 c. sugar
3 tbsp. water

FILLING:

2 egg yolks
2 tbsp. sugar
1 tsp. cornstarch
1/2 c. light cream
3/4 c. unsalted butter
1 c. confectioners' sugar
1 tsp. instant coffee
1 tsp. vanilla
1 c. finely chopped nuts

FROSTING:

3/4 c. semi-sweet chocolate pieces
3 tbsp. unsalted butter
1 tbsp. cream

Grease a 15"x10"x1" jelly roll pan; line bottom with wax paper, which has been greased. Sift flour, cocoa and baking powder into small bowl. In medium sized mixing bowl, beat eggs with electric mixer until thick and creamy. Add sugar gradually, beating until very thick. Add vanilla and water; fold in flour mixture.

Spread batter in pan. Bake in 375 degree oven for 12 minutes or until center springs back lightly when touched. Loosen cake around edges with small spatula; invert pan onto a clean towel which has been dusted with confectioners' sugar. Peel off wax paper. Roll up cake in towel. Place on wire rack, seam side down; cool. Prepare the filling and spread on cake as directed. Chill cake overnight then frost as directed.

FILLING: Mix egg yolks, sugar and cornstarch in small saucepan; blend in cream. Cook over medium heat, stirring constantly until mixture comes to a boil. Cool and chill. In mixing bowl, beat butter with electric mixer until soft and smooth. Beat in confectioners' sugar until smooth. Mix instant coffee with vanilla and add to sugar mixture. Add custard a spoonful at a time, beating constantly until light and fluffy; add nuts.

Unroll cake, spread with 2/3 of filling. Roll up cake. Place seam side down on cookie sheet. Spread with rest of filling mixture; chill overnight then frost.

FROSTING: Melt chocolate pieces, butter and cream over hot water, stirring until smooth. Let stand 5 minutes; quickly spread over roll. Score lightly with fork tines for textured effect. Chill cake overnight; keep chilled until serving time.
Related Links
References