Violet
From Giftypedia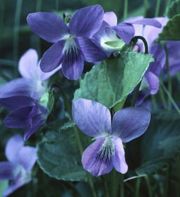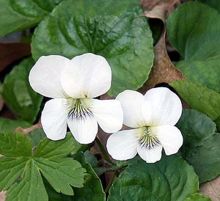 Violet
The Violet is considered the flower of February, and is the floral symbol for the 50th Anniversary of marriage.
Violets are from the genus viola and are usually very tiny plants and flowers. Pansies are a type of violet.
The Violet is the state flower of Rhode Island, USA.[1] The blue violet is also the state flower of Wisconsin, Illinois, and New Jersey.
Violet Flower Symbolism
Flower Meanings of Violet
Purple Violets - Modesty and Simplicity
Blue Violets - Faithfulness, Always True, Watchfulness
White Violets - Let's Take a Chance


The most common color of Violets is purple, but they also blue or white. There are 400-500 species of violet (viola) around the world.
Violets are self-pollinating, which is why in the middle ages, the church adopted it to symbolize the immaculate conception of the Virgin Mary. This flower is associated with innocent love and virtue.
Legend has it that when Josephine married Napoleon, she wore a string of violets, and on every wedding anniversary thereafter, Napoleon sent her a bouquet of violets.[2]
The Edible Violet Flower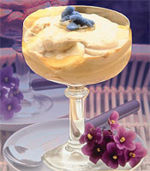 Candied Violet flowers are used to garnish cakes, fruits, and pastries. The French are very fond of creating food from violets and have also created a liqueur from violets called "Crème de Violette".[3]
The leaves of the violet plant can eaten alone, but also work well when added to green salads.
Violet water is made by steeping leaves and flowers in water. This water can be used in teas, puddings and for flavoring ice cream.
Violets can be frozen into ice cubes or a used in a ring mold for an elegant touch of spring in a bowl of punch for a sweet 16 birthday party, bridal shower, wedding reception, or tea party.
For a romantic birthday or dating anniversary, edible violets can be floated in a glass of white wine or champagne.
Lemonade made with water steeped from the dried flowers is a romantic, Victorian style of drink fit for a summer wedding or spring bridal shower.
Related Links
References