Strange Music Day
From Giftypedia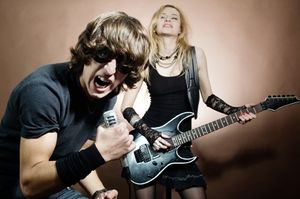 When Celebrated
Usually on August 24th (varies)
Gifty-ness

About the Holiday
Strange Music Day was started by Julliard graduate and professional musician, Patrick Grant, who also serves as founder and artistic director of Strange Music Inc., an organization dedicated to releasing recordings and presenting compelling new work. The purpose of Strange Music Day is to "listen to a CD you never heard before, just for the hell of it".
This holiday was originated on August 24th, 1998, when it's founder flew a "Strange Music" banner during his inaugural concert at the Knitting Factory in New York City. Since then, a number of small organizations around the world, a growing number of radio stations as well as a large number of summer school programs have adopted this holiday.
See strangemusic.com for additional information.
Gift Guidelines

A new CD or MP3
Concert tickets
See a group at a local pub
Start a new Pandora channel
Unique instruments

Related Holidays
August Info & More Holidays
Birthstone:
Flower:
Zodiac:
Jul 23 - Aug 22



Leo

Aug 23 - Sep 22



Virgo