National Violin Day
From Giftypedia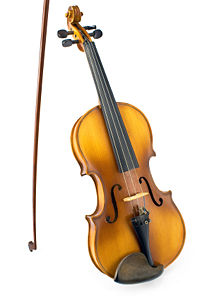 When Celebrated
Always on December 13th
Gifty-ness

About the Holiday
Violin or Fiddle whatever name you call it by, Violin Day is the day to celebrate this bowed string instrument. This instruments rich history dates back to 16th century Italy. This intricately made instrument has many parts, and the modern violin is made of 70 different pieces of wood. Today is the day to celebrate with any violinist or fiddler you know, and let them show off their musical talents. Or if you know a luthier, today would be a great day to get them a gift!
We were unable to locate the origins of this holiday, though many in the blogosphere have postulated that this day, being a couple of weeks before Christmas is a popular time for many school concerts which would feature the well-known instrument.
Closely related to National Violin Day is International Violin Day which is celebrated on June 17th.
Gift Guidelines

CD or MP3 of violin music
Violin music sheet
Violin pin or jewelry
Violin wall hanging or artwork
A violin

Related Holidays
December Info & More Holidays
Birthstone:
Flower:
Zodiac:
Nov 22 - Dec 21



Sagittarius

Dec 22 - Jan 19



Capricorn