St. Nicholas Day
From Giftypedia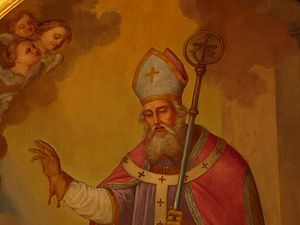 When Celebrated
Always on December 6th
Gifty-ness

About the Holiday
Half the folks you ask have never heard of such a day. The other half celebrate it. If you ever see a picture of St. Nicholas he looks VERY much like Santa Claus. Actually, Santa is the one that looks like St. Nick as that's where his "look" came from. He had white hair and a white beard and mustache. His feast Day is Dec. 6. St. Nickolas Day celebration originated in Europe.
In The Netherlands, St. Nicholas is known as "Sinterklaas", and it is he who arrives on Sinterklaas Avond (St. Nicholas Eve) to bring toys to the children. Children traditionally put an emtpy shoe out on December 5. The following morning (12/6) kids find what St. Nick has filled (i.e. candy and small presents) if the children have been "good"). If they were not good, they get coal. Some "parents" also put their shoe out in hopes it gets filled. Celebrations are also similar in other European countries, including Germany.
In Switzerland, St. Nicholas is known as known as "Samichlaus". He is accompanied by a dark-clad assistant, Schmutzli, who is sooty from going down chimneys to leave presents for the good children. Bad children were traditionally left a lump of coal, but now they are left a lump of sugar that looks like coal.
Christmas begins on December 6th in Austria, with the feast of St. Nicholas. The saint, accompanied by the devil, asks children for a list of their good and bad deeds. Good children are given sweets, nuts and toys. If a child confesses to misbehaving, Saint Nicholas sends the child running before any harm befalls him or her.
| | |
| --- | --- |
| Gift Guidelines | Related Holidays |
December Info & More Holidays
Birthstone:
Flower:
Zodiac:
Nov 22 - Dec 21



Sagittarius

Dec 22 - Jan 19



Capricorn