Germany Gift Giving Customs
From Giftypedia
Flag of Germany

Officially the Republic of Germany.

Capital: Berlin

Official Language: German

Currency: euro (EUR)

National Holiday: Unity Day - 3 October (1990)

More German Holidays
Gift Giving in Germany
Social Etiquette
Be on time. You are allowed an "academic quarter" which means you can arrive up to a quarter of an hour late to be still within the limits.

A quick, firm handshake is the traditional greeting.
Women should be allowed to offer their hand first. If she does not, do not presume to offer yours.
When entering a room, shake hands with everyone individually, including children.
When invited to a German home, always take flowers for the woman and a bottle of wine for the man. Be sure to ask the shopkeeper to wrap the flowers "as a gift."
Shopping on Sunday is rare, and stores close early on Saturday, so plan accordingly for any possible gift giving occasions.
Credit Cards are rarely accepted at most restaurants. Look for the familiar logos or ask your waiter.
German banks aren't set up to deal with a U.S. personal check. A German check or bank draft is a transfer of funds (eine Geldüberweisung) from one bank account number to another.
Tipping - A service fee, known as "bedienung", is added directly to your bill. This is usually around 15 percent. If the service is better than average, the tip should always be given directly to the waitress or waiter. Generally, when you pay the bill you round up to an appropriate amount and tell them to keep the change.
In Germany, a small gift is polite, especially when contacts are made for the first time. Substantial gifts are not usual, and certainly not before a deal has been reached if you don't want your intentions to be misinterpreted. Even small souvenir-style gifts to thank local staff for their assistance and hospitality during your stay at a company will not be expected but will always be appreciated. Avoid giving substantial gifts in private. The larger the gift, the more official and public the giving should be. [1]
Personal Gift Giving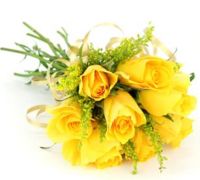 Gifts to Avoid
Red roses, as they symbolize romantic intentions.
Carnations, as they symbolize mourning.
Lilies or chrysanthemums as they are used at funerals.
Pointed items such as knives, scissors or umbrellas are considered bad luck as a wedding gift.
Unless you're a family member, money is considered to be in bad taste as a gift for the bride and groom.
Christmas in Germany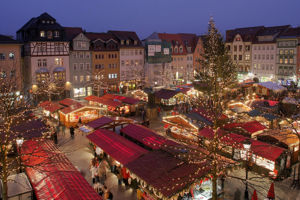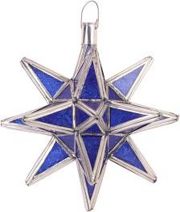 Christmas is a big holiday in Germany. The country is famous for its Christmas Markets known as "Christkindlmarkt" or "Weihnachtsmarkt". The festive markets, which are popular tourist attractions, are generally held in each city's town square and are known for serving traditional food and drink along with other seasonal items from the open-air stalls. There's also traditional singing, dancing and the welcoming of the "baby Jesus". Christmas celebrations begin with the advent on the eve of December 6 which is known as "Nikolaustag" or "St. Nicholas Day". On this night, kids put their shoes or boots outside the door in anticipation of getting them filled with delicious treats by St. Nicholas, the patron saint of children. Gifts are opened on Christmas Eve once the religious customs are finished. [3]
Related Items
Resources
References