Celebrating Bosses Day
From Giftypedia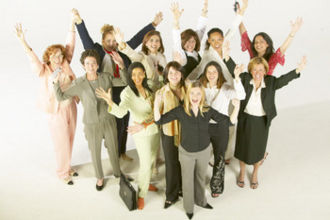 Remembering the 'big cheese' on Bosses Day is not what it used to be. Once a highly criticized holiday acknowledged mostly out of obligation, Bosses Day is now a day to show the boss just how he measures up. Great bosses are remembered and employees are celebrating Bosses Day their way.
Do You Celebrate?
Each year as Bosses Day approaches there are those who find themselves wondering whether or not to acknowledge the holiday. After all, the boss has always done the giving and there is a hesitation to go against tradition – besides, it just doesn't feel right. But can you afford to ignore it?
Who's The Boss?
If you work for someone, he or she is your boss. Don't let admiration go unexpressed - after all, the boss is the one who keeps the company afloat. Bosses Day is the one day a year that affords the opportunity to give your boss the appreciation that he/she deserves. Many employees wanting to participate are opting for more creative gifts that provide entertainment for the employees as well as the boss. It only comes once a year, so why not make it fun?
Bosses Day Fun
Celebrating in a fun way has its advantages:
Even the boss doesn't mind recognition when it is done in a fun way.
Fun and humorous gifts eliminate surfing for brownie points.
Wacky gift ideas provide entertainment for the employees as well as the boss.
And just maybe it will remind him/her what it's like to be one of the little people.
Bosses Day fun starts with creative gifts. Employees looking for gift ideas out of the ordinary can do so right from their office. A multitude of fun and humorous gifts, both individual and group gift ideas, are available online. Here are some favorites:

Pimp My Cubicle Kit
Never Question the Boss Sign
Anti-Stress "Bang Head Here" Sign
Micro Manager Comical Figurine
Custom Executive Figurine Made in the Boss's Likeness
Caricature of the Boss matted and signed by the gang

Experience gifts have exploded in popularity and also provide that fun factor employees are seeking for Bosses Day. After all, what could be more fun than observing your boss enjoying…

Aerobatic Biplane Ride
Nascar Experience
White Water Rafting
Hang Gliding
Sky Diving
Hot Air Balloon Ride …and the list goes on.

When considering a gift to make Bosses Day fun, just give whatever feels comfortable. You can make an impact without spending a lot. While it may not help you get that promotion, it is a reflection of your personality – so why not lighten up a bit?
Related Articles