White Elephant
From Giftypedia
What is a White Elephant? A "white elephant" is usually something that you already have and for some reason don't want. It could be something someone gave you as a gift - a good possibility for regifting. White elephant gifts are either gifts of this nature or gag gifts. Either can be the theme for a White Elephant Gift Exchange.
White Elephant Gift Exchange
Because white elephant gifts are neither useful nor wanted, they create great fun for a gift exchange game. Today, the White Elephant Gift Exchange is a popular party game played primarily in the winter during the Christmas, Hanukkah and New Year's holidays. The Yankee Swap is the New England variation of the white elephant gift exchange game.
The goal of a white elephant party is entertainment. People don't come in the hopes of leaving with nice, cherished gifts - rather, the game is all about stealing your neighbor's gift and keeping it as your own. Throwing a few good gifts in the mix will heighten the fun. The larger the group, the more entertaining the game.
Traditionally, a white elephant gift is something used you have lying around the house. The host will decide whether the guests will bring something from their home (no purchase allowed) or a gag gift (which may be new). Either way, it is best to give something worth fighting over to make the game more interesting. Occasionally, some gifts make their way back to white elephant parties year after year.
Trivia
The term White Elephant has its origins in Thailand. Albino elephants, otherwise known as "white elephants," were considered sacred. Keeping a white elephant was a financial burden costing the owner who had to feed and care for it. It is told that emperors would give these sacred elephants as a gift to subjects they did not like ultimately causing their ruin. Therefore the term, "white elephant," was adopted as a burdensome gift that cost the recipient more than the giver.
Party Tips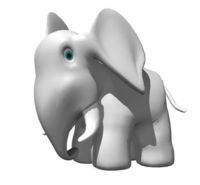 Preparing a list of questions as to who brought which present can add another dimension to the game.
Watch for cheaters! Some more enterprising players will collaborate among themselves in order to obtain the best gifts.
The worst white elephant gifts may be the best of all in providing entertainment for those participating.
Drawing a higher number is beneficial because you can make your gift choice as far into the game as possible for the best selection.
Watch out for exquisite gift wrap – more than likely, it is concealing a resurrected gift from the year before.
Caution: Giving too nice of a gift to dwell amongst the rejects can cause all-out war!
Game Basics
A dollar value/limit should be set.
The gifts should be in new or good condition.
All gifts should be wrapped.
If a Gift Card is allowed as a gift, it should be accompanied by another gift. For instance, if you give a movie rental gift card, include a bucket of popcorn.
Designate an area for the gifts out of view so that as guests arrive, they can discreetly deposit them. Not knowing who brought what gift is part of the fun.
Play the Game
Write numbers on separate slips of paper to equal the number of gifts. Place in a hat or bowl.
Each guest draws a number.
The guest with # 1 picks a gift, opens it and shows it to the guests.
The guest with # 2 then has a choice of either "stealing" # 1's gift or choosing to unwrap a gift from the pile. If # 2 "steals" # 1's gift, # 1 will then choose another gift to unwrap.
The guest with # 3 now has a choice of "stealing" # 1 or # 2's gift or open a wrapped gift.
The game continues in this fashion through all the numbers.
After the last wrapped gift is opened and kept, then person #1 has the last turn. He/she can decide to keep their gift or trade it for an eligible gift (one that has not been stolen 3 times) and the game is over.
Rules
A gift cannot be immediately stolen back from the guest who just stole it.
A gift can only be stolen 3 times. The fourth guest to own the gift gets to keep it and the gift is deemed "retired".
A person should not choose nor steal the gift that they brought to the party. Though, a person could be stuck with their gift if person #1 exchanges with them at the end.
All gifts that are eligible to be stolen must be in sight at all times.
Variations
One variation of this game is to not unwrap the presents until the end.
Another variation is instead of drawing numbers from a hat, that two decks of cards are used. Each person selects a card. Then, order of gift selection is established by drawing cards from the second deck. Cards are turned over one-by-one until it matches someone's selected card. When this happens, it is their turn.
In some games, you are asked to label who your gift is suitable for -- e.g., male, female, boy, girl, etc. -- as to assist people in choosing gifts.
To add excitement, sometimes the host/hostess will have a special prize for the person who brought the gift that was the first one retired.
Other Holiday Games
Other Games
Related Guides