Stay at Home Because You Are Well Day
From Giftypedia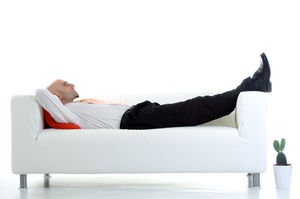 When Celebrated
Always on November 30th
Gifty-ness

About the Holiday
Normally, stay at home days are not fun because you're not feeling well. Stay at Home Because You Are Well Day changes that by suggesting that we play hookie from work or school for the day. Great concept as it would be fun just to take a day off and enjoy being home.
The only issue is that we have to keep this holiday a secret, because if too many people start celebrating, the cat will be out of the bag. And, if spouse and kids are also home, it kind of defeats the purpose. Also, this holiday would be enjoyed more during the warmer months. Perhaps, this should become a floating holiday where instead of celebrating on November 30th, this day reminds you to pick one random day during the year to celebrate. It could be called Plan Your Call in Well Day.
Celebrate at your own risk; participating in this holiday could cause loss of job. Though, if/when you do choose to celebrate, remember to stay off of Facebook for the day as to not inadvertently expose your wellness during your off day.
This holiday is a copyrighted holiday that was created by Thomas and Ruth Roy of Wellcat Holidays.
Gift Guidelines

Book of excuses
Good book or movie
Game
Craft making kit
Robe and slippers

Related Holidays
November Info & More Holidays
Birthstone:
Flower:
Zodiac:
Oct 24 - Nov 21



Scorpio

Nov 22 - Dec 21



Sagittarius