National Leave the Office Earlier Day
From Giftypedia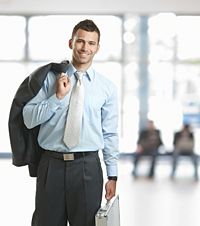 When Celebrated
Usually on June 2nd unless it falls on weekend, then it's either the closest Friday or Monday.
Gifty-ness

About the Holiday
National Leave the Office Earlier Day is a day to leave work early. No staying late or leaving right at the end of the day. Get your work done early and enjoy the rest of your day. Spread the word and see if everyone can get done early.
This holiday was started in 2004 by Laura Stack a productivity consultant who advocates that people can be more productive in a typical 40 hour work week and shouldn't need to put in long hours to be a top performer. According to a fact sheet on her website, the average American worker wastes more than 2 hours each day and spacing out is claimed to be the number one time waster for 3.9% of workers.
Gift Guidelines

Tickets to a baseball game
Golf lessons
"Gone Fishing" sign
Book on increasing productivity

Related Holidays
June Info & More Holidays
Birthstone:
Flower:
Zodiac:
May 21 - Jun 21



Gemini

Jun 22 - Jul 22



Cancer