Sewing Machine Day
From Giftypedia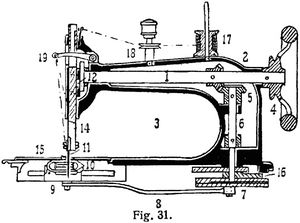 When Celebrated
Most celebrate on September 10th. Though, there are some that celebrate this day on June 13th and others that celebrate it on August 12th (see below).
Gifty-ness

About the Holiday
The sewing machine was invented in France around the 1830's. It eventually made it to the US in 1846, where sewing by hand was replaced.
Sewing Machine Day is a simple holiday, yet represents a very important technical step forward in our industrialized society. However, the gifty-ness and gift ideas for this holiday are obviously limited. Nowadays, sewing machines are rarely used, and not many people own or even know how to operate one. So, maybe just use this as a day to celebrate the general benefits to the apparel industry that this and related devices brought about (perhaps, buy buying new clothes).
The official date of this holiday varies greatly. We've found numerous sources that recognize June 13th, though, we're not able to find any information on the origin or significance of that date. There are also a number of sources that claim the date to be August 12th which is the anniversary of a sewing machine patent awarded to Isaac Singer in 1851. We've decided to recognize September 10th as the official date as it coincides with the first American sewing machine patent which was awarded to Elias Howe on September 10th, 1846. We've also found slightly more references associated with the September 10th date in Google.
| | |
| --- | --- |
| Gift Guidelines | Related Holidays |
September Info & More Holidays
Birthstone:
Flower:
Zodiac:
Aug 23 - Sep 22



Virgo

Sep 23 - Oct 23



Libra