National Tailors' Day
From Giftypedia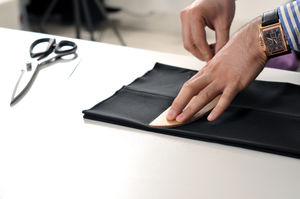 When Celebrated
Always the first Wednesday in June
Gifty-ness

About the Holiday
National Tailors' Day celebrates the people that made or altered your clothes to make them fit and look just right. Learn.org explains that "a tailor works at altering clothing and apparel to fit a client/customer. They can make clothes as well and might be tasked with hemming and mending. Usually, a tailor will work more with suits and coats and even fancy dresses such as ball gowns."
Some common things a tailor does include:
shorten or lengthen a hem
shorten straps
shorten sleeves
add a hook or button to a blouse or shirt
If you're often told that you look marvelous, you may be wanting to send out a thank you on to your tailor. Even in today's more casual world, nothing brings out your best quite as well as a well-tailored suit. Celebrate this holiday by dressing up and thanking the person who keeps you looking good.
Gift Guidelines

Measuring tape
Thread and needles
Hangers
Scissors
Thimble

Related Holidays
June Info & More Holidays
Birthstone:
Flower:
Zodiac:
May 21 - Jun 21



Gemini

Jun 22 - Jul 22



Cancer