Happy Chocolate Day
From Giftypedia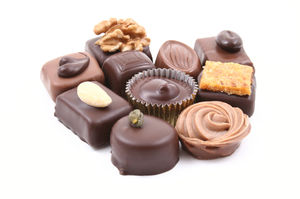 When Celebrated
Always on February 9th
Gifty-ness

About the Holiday
Happy Chocolate Day is a day to celebrate the happiness eating chocolate gives you. Valentine's Day is just days away so why wait - start enjoying chocolate now. There are compounds in chocolate (Phenylethylamine and Theobromine) that release feel good/mood enhancing endorphins in the brain. The same you feel when you fall in love. Chocolate is also packed with antioxidants and are a rich source of magnesium.
Chocolate has been around for a long time. The Mayans harvested (and worshiped) the cocoa bean. The Aztecs used it as currency and as a drink. The Briton John Cadbury was the first to create a chocolate bar (1800s). The first Hershey's Milk Chocolate bar was enjoyed in 1900, Hershey's Kiss was 1907, and famous candy bars Reese's Peanut Butter Cups, Butterfinger, and Milky Ways were invented in 1923.
Switzerland eats the most chocolate per capita. The most popular chocolate candies in the US are M&Ms, Reese's peanut butter cups, Snickers, Hershey's Milk chocolate, and Kit Kat.
Gift Guidelines

Box of chocolates, chocolate covered cherries
Hot chocolate, chocolate flavored coffee
Chocolate covered strawberries, nuts, bananas
S'more kit, chocolate brownie
Chocolate pudding, ice cream, or milkshake

Related Holidays
February Info & More Holidays
Birthstone:
Flower:
Zodiac:
Jan 20 - Feb 18



Aquarius

Feb 19 - Mar 20



Pisces