Worship of Tools Day
From Giftypedia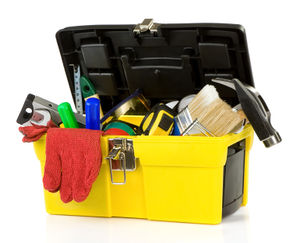 When Celebrated
Always on March 11th
Gifty-ness

About the Holiday
Most guys can relate to Worship of Tools Day. This is the day to appreciate and admire all the tools one has. Power tools, manual tools, even grilling tools -- whatever you fancy. Tools are a man's best friend. In fact, many credit the advent of tools as being one of the distinguishing characteristics of mankind.
Celebrate today by getting yourself, or someone else, a new tool for the collection. If you're getting it for your significant other, perhaps consider a tool(s) that would help them with that special household project that you've been wanting to get done (be subtle; if questioned, the choice of tool(s) was pure coincidence -- "oh, that's what that is for"). ;)
A little wisdom about a man and his tools:
A man in a home improvement store is like a kid in a candy store.
He who dies with the most powerful tool wins!
The more powerful the tools, the more powerful the man.
Gift Guidelines

Tools, any kind, any type
Tool accessories, tool cabinet, tool belt, etc.
Allow the tool lover "time" with their tools

Related Guides
March Info & More Holidays
Birthstone:
Flower:
Zodiac:
Feb 19 - Mar 20



Pisces

Mar 21 - Apr 19



Aries