Jonquil
From Giftypedia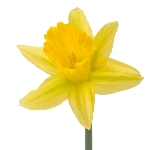 About the Flower
Jonquil
The Jonquil or Daffodil is the flower for March, and the floral symbol for the 10th Anniversary of marriage.
Flower Meaning: Rebirth, new beginnings, regard, unrequited love, you're the only one, chivalry.
Also commonly known in North America as the Daffodil, the Jonquil's botanic name is the Narcissus, a spring flowering bulb in the Amaryllis family that is native to southern Europe and the Mediterranean. The tale of the Narcissus stems from the Greek god of the same name, who fell into a pond and drowned while admiring his reflection. A group of flowers sprouted where he fell, which gave the blossoms their name.
The sweet-fragranced Jonquil blooms from February to May. As one of the first flowers of spring, it is also a symbol of rebirth.
Colors they come in: White, yellow and orange
Related Links