Guide to Buying Safe Toys
From Giftypedia
There are many holidays and occasions when you need to buy toys. When shopping for toys you want the gift to be perfect for the recipient, considering the child's age and interests are where most shoppers begin their search. Shopping for safe toys can be confusing here are some tips to help with purchasing safe toys: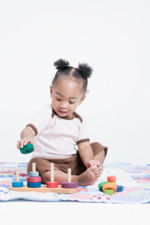 Check out the Labels
First make sure that the toy is for the child's age range. The packaging of most toys will be labeled with the age recommendations. Buying toys that are not age appropriate can put a child at risk of chocking and other hazards. Do not purchase toys for infants and toddlers that have small parts, or parts that could bitten off and swallowed, or that have strings that are longer than 6 inches. Tip: Put the toy to the test to help prevent choking hazards by using a Choke Tube Tester or a toilet paper tube, if the toy can pass through it is to small for a child that is 3 and under.
Things to look for on labels:
Fabric toys should be labeled flame resistant or flame retardant
Crayons, art supplies, or a toy that contains liquid should be labeled Non-toxic. Make sure your art supplies are safe by looking for the ACMI seal or by viewing a list of certified products on the site
Dolls and stuffed animals should be labeled washable
Electric toys should have UL labels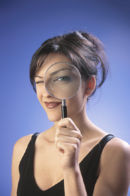 Be a Toy Inspector
Be your own toy safety inspector. Inspect the toy not only small parts, but sharp points and edges. Avoid buying toys with parts that move and could pinch, cut or trap a part of a child's body. Make sure toys are well made, look for sturdy construction and shatter proof materials. Check that the toy is not to loud, anything louder than 100 decibels can be harmful. Any toy that is labeled with-"Warning - Do not fire closer than 1 foot to the ear." and "Do not use indoors." are toys that could harm hearing. To help prevent eye injuries avoid buying toys that have parts that shoot and fly off. When buying toys that have darts make sure they have soft tips.

Stay Educated
Read and follow the instructions for the assembly and the use of the toy. Stay informed about the toys that children play with, and check for product recalls. To check for recalls on toys check out Recalls.gov and CPSC.gov.
Stay Safe at Home

Discard packaging materials once the toy has been opened
Wear safety equipment (i.e. helmets, pads, goggles, etc.)
Discard broken toys
Store outdoor toys and bicycles to protect from rain and snow
Make sure that children put toys away
Discuss with children the proper use of the toy
Supervise the children while at play
[edit]
Related Items
[edit]
Sources