Tips for Planning a Mardi Gras Party
From Giftypedia
Mardi Gras parties are not just for the days associated with the holiday. Mardi Gras themed events are held all year 'round - as a banquet, prom, wedding, meeting or shower. As they say in New Orleans, you can "Pass a good time" any time!
Here are a few tips and ideas for Mardi Gras Party ideas that will make planning the party easier...
Mardi Gras Party Tips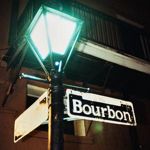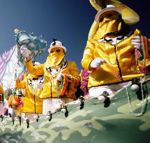 Start Planning Early - Depending on the type of party, you may need to start planning months or even a year ahead of time. If the party is held during the Mardi Gras season, you will have to plan around the parade schedule and Mardi Gras Balls, which are held by local organizations.
Choose the Date - Find a time that does not conflict with other events such as parades or sporting events. Choose several dates and then ask your friends about their availability on those days.
Make a Guest List - How many people are you expecting? How many people can you afford to entertain?
Choose a Location - What is the weather expected to be like at that time of year? Will you be outside or inside? It's always a good idea to have an inside location as a backup.
Pick a Theme - Mardi Gras is a broad theme. You can be more specific with your party theme and decorations. Some examples are: Belle of the Ball, Stars Fell On Alabama, Hurricane Party, Big Easy, French Quarter, Down on the Bayou, of Boeuf Gras.
Degree of Costume Expected - Will it be a full costume party or just accessories?
Decorations will depend on the specific theme, but the traditional colors for New Orleans Mardi Gras are gold, green and purple; and the traditional Mardi Gras colors for Mobile are gold and purple.
Mardi Gras Party Themes & Ideas
The Jazz Brunch - A Mardi Gras Party Theme for Adults

A brunch is a late morning or early afternoon event. This type of party lends itself to a buffet.
Food - Breakfast food such as Café du Monde, cafe Au lait, beignet (or donuts), eggs sardou , bananas foster, crepes. Seafood is a regional favorite, so lunch food can include shrimp etouffee or crab cakes. A brunch buffet usually includes fruit.
Drink - Cocktails, including champagne cocktails; Hurricanes, Cajun Bloody Mary.
Entertainment - Music for this theme is Zydeco, jazz, some rock 'n roll, southern rock (aka "rockabilly"). Have a contest (costume, dance, air saxaphone) and vote for the King and Queen, who are awarded special chairs or "thrones" for the rest of the party.

Voodoo on the Bayou Party - Mardi Gras Party Theme for Young Adults and Teens

This type of party is also good as a Halloween party idea.
Food - Pralines, moon pie, red beans and rice, seafood, gumbo, beignet (or donuts), jambalaya, dirty rice, Muffuletta, shrimp or oyster po' boys.
Drink - Punch colored either "swampwater" green or red.
Entertainment - Costume contest. Winners become the Voodoo King and Voodoo Queen.
Decorations - Similar to zombie or witch Halloween theme with a New Orleans flair, such as adding alligators.

Makin' Groceries - A Mardi Gras Party Theme for Families

A "Bring Your Own" or potluck affair. With a bit more planning, you can have each participant bring an ingredient for the main menu item. Assign a "head chef" and several sous chefs for the preparations.
Food - Southern style food or regional favorites.
Drink - Choose ingredients for a punch. Make sure the punchbowl, cups, and ice are assigned.
Entertainment - Moonpie Throwing contest.
Decorations - Mardi Gras colors with a cooking theme.

Mardi Gras Parade Party

Mardi Gras Party Theme for Kids
Food - Po Boy sandwiches, Mardi Gras colored cupcakes, MoonPies.[1] Create individual mini King Cakes from glazed donuts.
Drink - Separate punches in Mardi Gras colors; purple (grape), gold (lemon or orange) and green (lime).
Entertainment - Have the kids make miniature Mardi Gras floats from shoeboxes with awards for the most creative. Create a Mardi Gras word scramble or word find puzzle. Have a MoonPie eating contest.
Decorations - Traditional Mardi Gras colors.
Glossary of Regional Terms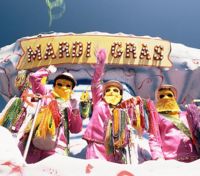 "Pass a good time" - To party, live it up.
Lagniappe - A small gift. A little something extra given with a purchase.
NOLA - New Orleans Louisiana
"Laissez les bons temps rouler" - French phrase, "Let the good times roll."
MoonPie - Graham cookies with a marshmallow filling, dipped in chocolate or other flavors. Popularized as a "throw" in Mobile, Alabama.
Throws - Items thrown from parade floats or other parade participants.
Krewes - Parade participants; the organization of the people on the floats.
Boeuf Gras - French phrase for "Fat Bull". An alternate name for Fat Tuesday.
"Makin' Groceries" - From the French "faire son marche," "to do one's market shopping".
Go-Cup - Plastic cups.

Related Items
Mardi Gras
Mardi Gras Festival
King Cake
Future Dates for Mardi Gras, Shrove Tuesday
Lagniappe - That Little Something Extra
Host/Hostess Gifts

References