Gifts for the Seafood Lover
From Giftypedia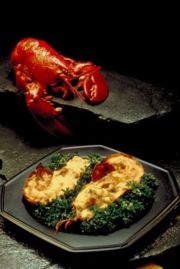 Know anyone that prefers the surf instead of the turf? Some people will not eat seafood while others cannot seem to get enough. Well, these
gifts for the seafood lover
from all over the nation are great for those who adore seafood!
Gift baskets for the Seafood Lover
Many companies sell gift baskets with delicious seafood treats that they will certainly love! Here are just a couple of seafood lover gift ideas that will have any seafood lover happy as a clam.
Bring the Old Dominion home to you! Create a Seafood Lover's Bucket from some of the best seafood the you can find! Fill a galvanized bucket with gourmet seafood such as smoked oysters, a salmon spread kit, a can of crab soup, add a box of mini toast or water crackers and a bag of extra large gourmet peanuts. And the bucket can be used for your next crab or crawfish boil!
Feel the urge to splurge? The Deluxe Seafood Gift Basket is filled to the brim with all sorts of delectable treats! Clam chowder, Smoked Mackerel, Herring with cracked pepper, smoked salmon, lobster chowder and smoked oysters are just some of the many treats that are available.
Gift ideas for the Crab Lover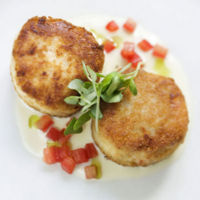 Is your seafood lover a little crabby? How about King Crab Legs shipped directly from Alaska? Some companies also sell Salmon, Shrimp, Scallops, Halibut, and Cod.
A favorite in the Florida Keys, Stone crab claws are known for their sweet flavor and beautiful appearance. These delicious treats can be ordered during stone crab season (Mid-October to Mid-May) online. The crab claws are delivered cooked, chilled and ready to serve with a side of mustard sauce, wooden mallet and cracking instructions.
Of course most crab lovers don't like the work involved in eating crab so you can always treat them with these crabcakes. Maryland Crabcakes are sold online. Made fresh from lump crabmeat from Maryland blue crabs, some companies ship them daily.
Fisherman's Express also sells delicious seafood from the Last Frontier. One of their top selling items is the Variety Pack, which includes Giant Snow Crab legs, King Crab Bisque, Peppered Smoked Sockeye, Alaska Crabcakes, and even Reindeer sausage for those landlubbers.
Gifts for the Clam Lover
A delicacy in the Pacific Northwest and Asia, the Geoduck (pronounced gooey-duck) Clams are an unusual treat for many. These giant clams are eaten in a variety of ways, including sushi. Catalina Offshore Products ships live clams throughout the nation.
Gifts for the Lobster Lover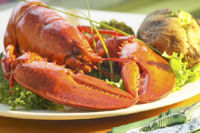 There is nothing sweeter than a delicious lobster tail from Maine. Legal Seafoods sells the Lobster Dinners. Serving fresh, live Maine lobsters can be the hit of the day! This company also sells lobster bisque made from thick cream and fresh lobster meat.
Gifts for the Cajun Food Lover
Know a transplant from Louisiana who is constantly raving about all the great food there? Do you have a hankering for some Cajun or Creole food? Have no fear, Cajungrocer.com is here! This website offers a variety of foods, everything from gumbo to jambalaya to crawfish to fresh shrimp from the Gulf. During 'mudbug' season, you can order up to 100 pounds of live crawfish and bring a bit of Louisiana to your neck of the woods. Crawfish are a traditional menu item during Mardi Gras and Easter in Louisiana.
If you have a seafood-hater or someone who is allergic to shellfish, there are plenty of items available for them as well, such as sausages, red beans & rice and much more! If it is around thanksgiving, a Cajun Turducken is available for the family to feast on. As the name implies, a turducken is made of a Turkey stuffed with chicken and duck, and filled with stuffing. Cajungrocer.com sells them with a variety of stuffings.
Other Seafood Lover Gift Ideas
Don't limit yourself to just getting the seafood lover seafood. Remember some of these delicious foods take some effort to eat. Here are a few other gifts for the seafood lover.
Lobster Bib – So the seafood lover will stay clean while enjoying lobster.
Shellfish Scissors and Shellfish Picks – This will make it much easier to enjoy some of their favorite shellfish like crabs.
Cookbook – One full of their favorite dishes so they can try them out at home.
Gift Cards – This can be to their favorite restaurant or from an seafood store so they can pick out exactly what they want.
Related Link
Links
Geoduck Clam preparation and recipes