Mardi Gras
From Giftypedia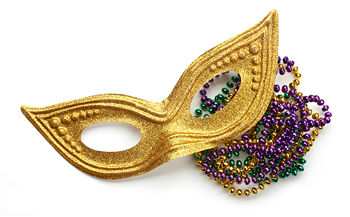 When Celebrated
The day before Ash Wednesday. Dates can vary, usually falling sometime in February or March.
Gifty-ness

About the Holiday
Mardi Gras is an annual festival marking the final day before the fast of Lent, a 40-day period of self-denial and abstinence from merrymaking. The biggest bash in New Orleans... Mardi Gras on Fat Tuesday. The Feast before the Fast. Celebrated the day before the start of Lent (Ash Wednesday) This lavish festival includes parades, partying, feasting, long nights, and much more. There are many traditions involved with this elaborate celebration, like the green, gold, purple, and the carnival king. Known very well here in the states, this celebration is actually quite well known world wide. A perfect time for a huge party, and don't forget... with parties come gifts.
Read more about the history of the Mardi Gras Festival.
Gift Guidelines
Useful tools for the night

Shot glass necklaces, beads, accessories, etc.

Mardi Gras Foods: Creole or Cajun food, Hurricane Barware
King Cake, chocolate covered strawberries
Decorations for the thrown party
Anything themed with the colors of Mardi Gras - gold, purple, green
Jester costumes, masks for the king and queen, etc.
March Info & More Holidays
Birthstone:
Flower:
Zodiac:
Feb 19 - Mar 20



Pisces

Mar 21 - Apr 19



Aries