Tips for Planning a Graduation Party
From Giftypedia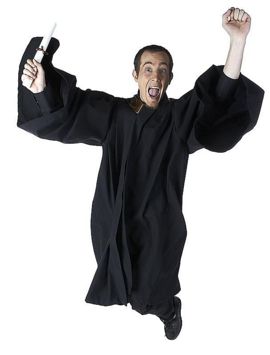 Graduation... a milestone achievement for someone of any age - from pre-schoolers on up. While a celebration is always fun for any aged graduate, most graduation parties are given for high school or college aged students. Here's a few Tips for Planning a Graduation Party that will help provide lasting memories for your honoree, and will make them feel great about their accomplishment.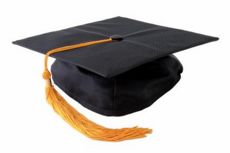 The best way to get started is to talk with your graduate first and get their input. After all - it's a party for them! Their likes and dislikes will determine the direction of a graduation party - whether it's casual or formal, what types of games and entertainment to provide (if any), what food they'd like to have, the perfect venue, etc. Make sure your graduate knows your budget, as well. Talking through the particulars will help set the stage for the perfect event.
Tips for Planning a Graduation Party

1. The Invitations
Certainly the most appropriate invitation for a graduation party is a rolled up "diploma". You can add a personal touch by tying the invitation with a ribbon or ribbons in the school colors. The invitations are easy to print on your computer, and you may want to include a school graphic. For a more formal invitation, consider using parchment paper and hand calligraphy. Or, take a cue from your chosen venue and incorporate it into your invitation design and wording.
2. The Setting
From a backyard barbecue to a formal country club - anything goes when it comes to a graduation celebration. Keep in mind your geographic region and the number of guests for more ideas. A local park, the beach, a barn, a bowling alley, a charter boat - even an airplane hangar can all make great venues. Consider asking other graduates and their families to co-host the celebration to cut down on costs. A unique venue helps to dictate the theme of your party, and will ultimately make it an unforgettable event.
3. The Food
Checking with your grad on the menu is a good place to start, however the formality of the venue should help to determine what food is served. A great option for any graduation party is a brunch, which makes for an easy menu (much of which can be prepared ahead), and should eliminate any dilemma about alcohol being served around minors. Simple items like bagels, and donuts (covered in school-color frosting or sprinkles) are easy, fun choices. Consider dying hard boiled eggs in the school colors - and decorate them with the graduation year or the graduate's name. Fresh fruit is easy and crowd-pleasing, and an egg strata can be prepared the night before and served hot the next day. Today's grads would love a coffee bar with a selection of flavored coffees and coffee drinks. Consider hiring a caterer to provide this service with a barista to tend the bar. [1]
4. The Activities
While most teens and young adults would be content to sit and talk, consider spicing up the event with some unusual activities that kids of all ages would love! Rent a photo booth, hire a palm reader to predict their futures, an artist can draw caricatures, or simply organize some fun yard games. Don't forget the music - hire a local band or provide for a DJ or karaoke. A graduation party should include a few sentimental touches as well, like a signature board where guests can leave personal messages. Or, put together a video montage to show at the event. Ask your grad's friends to supply you with images for this creation. Videotaping the party is also must. If you'd prefer not to be behind the camera, hire a professional to handle this task - after the party's over you can have DVD copies made for the guests.[2]
5. The Favors
Party favors can be easily personalized just by featuring the school colors. Is your party heavily attended by the honoree's friends? If so, have several white tees made up with the graduation year - then supply permanent markers for the guests to "autograph" each other's shirts. Or, pass out mini-photo albums for the guests to fill with their favorite school photographs. Per Annum, Inc. offers a great mini-album that can be customized with the color of your choice. Want something a little more fun? Custom make your own M&M's! Choose your color, your text - even add a photo. Go to My M&M'S for ordering information. Want to make your own favors? Check out our list of "Do-It-Yourself" favors or gift ideas.
Related Articles
References