Tips for Planning a Dog Party
From Giftypedia
| | |
| --- | --- |
| Gone are the days when your pooches birthday is just another day. Pets are people too! At least in most households dogs are treated like one. Doggie birthday parties are becoming more popular and pet parties aren't limited to just a pet's birthday. Holidays and occasions like getting a new pet, Halloween, and graduations from doggie school are also reasons for a celebration. Careful planning is crucial in the success of your pet party because anything can happen with your canine friends. | |
Tips for a Pet Celebration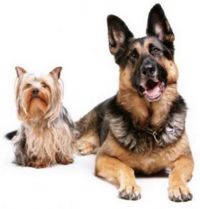 The Guest List
Inviting the pet and their owner is a very good idea. This way if any problems arise with the pet, the owner is there and can take care of it. Know the dogs you are inviting, their behaviors, their likes and dislikes and dogs that have been socialized with each other previously will most likely play together nicely.
The Venue
Dogs need space to run and play. When choosing a location for your canine birthday party take into account how many two-legged guests and how many four-legged guests will be attending the event. Make sure that you have areas for both to be comfortable, tables and chairs for humans and lots of running room for the dogs. A backyard party is an ideal location with lots of room and the needs of the canine guest can be taken care of easily and without damage. Have plenty of plastic bags and paper towels handy for quick clean ups. You may also want to have a dog first aid kit on hand just in case an accident happens.
The Invitations
A pet party follows the same etiquette as other parties just make sure the human guest understand they are also invited to join in the celebration. Peta.org has invitations you can create with your dogs picture. You can also find dog themed invitations at party supply stores. Make sure to include on the invitation any other pertinent information like your doggies birthday wish list, or if you are having a "no gift birthday" and want guests to bring dog food and toys that will be donated to a local shelter, or if you want guest to make a donation to a charity in your pooches name. While choosing your invitations go ahead and pick up some thank you notes to send after the party.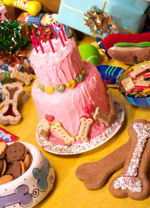 The Menu
Since you will be having both human and canine guest create a menu for both. The doggy bakery has also become popular and there is probably one near you. You can order treats and goodies from the doggy bakery or make your own treats. You can even bake or order cakes that both your two-legged and four-legged guests can both eat. Here's some links to recipes for cakes and Dragonbear.com has recipes for treats. Your four-legged guests will be thirsty from playing so make sure to have plenty of water on hand, and have drinking bowls for each pooch. If you want to send home a party favor with each canine guest consider purchasing trendy ceramic bowls or display your gifty skills by buying each a personalized doggie bowl.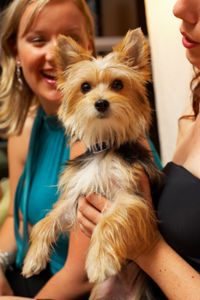 Games
Many of the games you can play at your doggies party are like the human version. Games like limbo, hide and seek, follow the leader, relay races all have the same rules you just need to put a canine touch to them. Like limbo, of course they can get down on their belly to go under the bar and with hide and seek you might want to hide a treat or toy instead of a person hiding. With follow the leader use voice commands to get the canines to respond and in a relay race having a treat or toy for them to run to will get a better response from the canine participants. You can even test the doggies eating skills with a cake eating contest. There are also games that can be played with the owner and the dog, like a dog and owner obstacle course or fetching races, here are some ideas from Squidoo.com. Remember to have prizes for the winners human and canine.
Goodie Bags
Sending your canine guest home with a goodie bag or personalized bowl filled with dog toys and treats is always a fun way to end the celebration.

If you have been invited to a Dog Party check out our guide for trendy pet and pet lover gifts.
Related Links