National Pumpkin Pie Day
From Giftypedia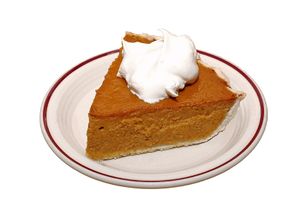 When Celebrated
Always on December 25th
Gifty-ness

About the Holiday
Pumpkin Pie Day celebrates this common dessert typically served from Halloween through Christmas. Besides the obvious main ingredients like pie shell and pumpkin (typically canned) other ingredients used to make pumpkin pie include sugar, eggs, evaporated or condensed milk, nutmeg, cinnamon, cloves, and ginger. Often topped with whipped cream pumpkin pie is a very common dessert in the United States on Thanksgiving.
Per History.com "By the early 18th century pumpkin pie had earned a place at the table, as Thanksgiving became an important New England regional holiday. In 1705 the Connecticut town of Colchester famously postponed its Thanksgiving for a week because there wasn't enough molasses available to make pumpkin pie. Amelia Simmons' pioneering 1796 "American Cookery" contained a pair of pumpkin pie recipes, one of which similar to today's custard version."
Eating pumpkin is good for you too. SuperFoodsRx.com boasts "Pumpkin contains one of the richest supplies of bioavailable carotenoids known to man. Indeed, a half-cup serving of pumpkin gives you more than two times the recommended daily dietary intake of alpha-carotene and 100 percent of the recommended daily dietary goal of beta-carotene". In addition one cup of pumpkin provides over 100% of your daily recommended Vitamin A and 20% of recommended Vitamin C.
Gift Guidelines

Gourmet pumpkin pie
Pie pan
Pumpkin candle
Ingredients to make a pumpkin pie

Related Holidays
December Info & More Holidays
Birthstone:
Flower:
Zodiac:
Nov 22 - Dec 21



Sagittarius

Dec 22 - Jan 19



Capricorn