National Noodle Ring Day
From Giftypedia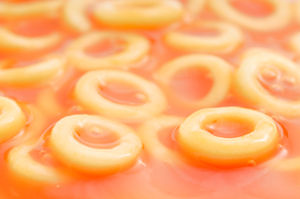 When Celebrated
Always on December 11th
Gifty-ness

About the Holiday
National Noodle Ring Day is a day to celebrate that circular pasta that you grew to love as a kid. Celebrate today by enjoying a big bowl of soup with tons of fun noodle rings, or a big can of SpaghettiOs. You can put sliced tomatoes in for added vitamins. Besides Original Spaghettios they also come in a variety of cans. Some include:
SpaghettiOs® A to Z's
SpaghettiOs® with Meatballs
SpaghettiOs® with Sliced Franks
SpaghettiOs® Plus Calcium
SpaghettiOs® Star Wars® Shaped Pasta
SpaghettiOs® Disney® Princesses
Even though today is Noodle Ring Day if you don't have any ring noodles on hand enjoy your favorite pasta dish. Make sure you go around today singing "Uh-oh! SpaghettiOs!"
Gift Guidelines

Make Dinner with lots of Ring Noodles
Pasta Maker
Vintage Campbell's Sign

Related Holidays
December Info & More Holidays
Birthstone:
Flower:
Zodiac:
Nov 22 - Dec 21



Sagittarius

Dec 22 - Jan 19



Capricorn