National Cheese Day
From Giftypedia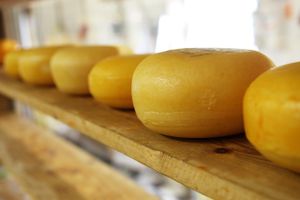 When Celebrated
Always on June 4th
Gifty-ness

About the Holiday
National Cheese Day celebrates this dairy based food that can be eaten as a snack or meal. Archaeologists believe goat cheese was first invented in 6000 B.C. Cheese.com has a database of 722 cheeses. The average American eats 31 pounds of cheese a year compared to the French that consume 50 pounds.
The most common cheese include mozzarella, cheddar, Parmesan, Jack, Swiss, and American. Cheese can be made as a block, slices, cubes, log or string. Cheeses are categorized according to texture/firmness, aging process, milk source, fat content, and/or country of origin.
Hard (easily grated): Parmesan, Romano and Asiago
Semi-Hard: Cheddar, Colby, Edam and Gouda
Semi-Soft (melt well): Monterey Jack, Brick, Muenster, Fontina and Havarti
Soft-Ripened: Brie and Camembert
Soft and Fresh: Cottage cheese, Cream cheese, Feta, Mascarpone, Ricotta, and Queso Blanco.
Gift Guidelines

Any variey of cheese
Cheese grater
Cheese slicer

Related Holidays
June Info & More Holidays
Birthstone:
Flower:
Zodiac:
May 21 - Jun 21



Gemini

Jun 22 - Jul 22



Cancer