National Grilled Cheese Day
From Giftypedia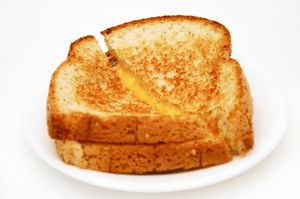 When Celebrated
Always on April 12th
Gifty-ness

About the Holiday
National Grilled Cheese Day celebrates that great comfort food that's a combination of gooey melting cheese that's between two slices of buttery toast also known as a grilled cheese sandwich or cheese toastie. This sandwich may date all the way back to the ancient Romans as they were the first civilization to eat cooked bread and cheese sandwiches. Processed cheese and inexpensive bread became poplar in the 1920s and so emerged the grilled cheese sandwich.
There are many different ingredients you can use to make a unique grilled cheese sandwich. Below are just a few ideas. Often the sandwich is accompanied with a cup of tomato soup.
American Cheese (most common) add tomato or bacon
Pepper Jack and jalapeno peppers
Pimento cheese or cheddar cheese
Swiss cheese with mushrooms
For even more grilled cheese ideas, check out WomansDay.com's 10 Greatest Grilled Cheese Sandwiches.
Gift Guidelines

Loaf of bread, butter, and cheese
Skillet
Can of tomato soup

Related Holidays
April Info & More Holidays
Birthstone:
Flower:
Zodiac:
Mar 21 - Apr 19



Aries

April 20 - May 20



Taurus