Hawaiian Luau Couples Baby Shower
From Giftypedia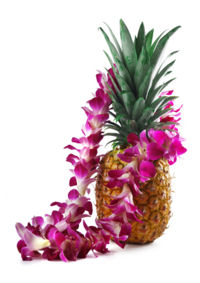 An alternative to throwing a traditional baby shower is to host a co-ed baby shower, which are typically more relaxed and appeals to the guys. Couples showers are not only male-friendly, but there family-friendly, which is a great way to include everyone in the celebration.
Planning a themed baby shower is always fun, and hosting a Luau Jack-and-Jill baby shower will make for a celebration that is festive, relaxing, and will have your guests feeling as if they have been transported to a tropical destination. The Hawaiian word, "luau" means "feast of Hawaiian food," and what better way to spark the interest of the guys then with delicious food. Below are some tips and advice that will help in planning for the joyous event easier.
Tips for Planning a Hawaiian Luau Co-ed Baby Shower
Location
Picking a location for your Hawaiian-themed baby shower is simple just have it in the backyard or poolside if it's warm outside. However, don't be afraid to move your luau inside if you decide to have one in the middle of winter, or if the weather doesn't permit you to celebrate outdoors.
Guest List and Invitations
Choose a date that is good for both of them because you do not want it to conflict with any sporting event or ladies night-out. Once the date has been decided it is time to move on to the guest list, be sure to include both parents-to-be when making the guest list. Ask them both to make of list of people they would like to invite, and make sure that there are plenty of the guys on the list. The dad-to-be's guest list could include: his father, father-in-law, friends, college buddies, and co-workers.
Choose invitations that reflect your tropical theme, such as in the shape of a surfboard, Hawaiian shirt, or with tropical flowers. When deciding on the wording for your invitations you may also want to refrain from using the word "shower" on your invitations, instead use the word "celebration", for example "Addition to the Family Celebration" or "New Birth Celebration." If you do choose to use the word "shower" make sure that it is clearly stated that it is a male-friendly baby shower.
Invitation Wording: Aloha friends! Come help us celebrate the new baby on its way with a Hawaiian Luau! Come dressed for fun in your best Hawaiian attire.
Menu
The best part of a having a Hawaiian luau is undoubtedly the food. Depending on how authentic you want to be and how much time you want to spend preparing dishes will help you determine your menu choices. If you want to have an authentic luau, then you can roast a whole pig in an underground Imu pit, but if that's too elaborate then you can roast a pork butt in the oven. If you do decide to roast a whole pig, and are having difficulty finding one at the local grocery store or butcher, then check with a local pig farmer or an online pig farmer. If roasting a pig is totally out of the question, then serve simpler tropical dishes like Waikiki chicken, Huli Huli Chicken, Hawaiian pizza, fruit salads, pasta salads, and fruit kebabs.
Put out small bowls of macadamia nuts and chocolate covered macadamia nuts for guests to snack on before and after the meal. Have plenty of colorful fruity drinks, such as Blue Hawaiians, Mai Tais and Pina Coladas, you can serve them with or without alcohol. Other drink options are tropical fruit punch, fruit teas, or fruit smoothies. To give your drinks that tropical flare you can serve them in coconut shells, hurricane cups or Tiki cups, but whatever way you serve them don't forget the cocktail umbrellas.
To top off the meal you will want a dessert, and of course you want it to keep with your tropical theme. For dessert you may want to serve coconut cake, chocolate macadamia nut cake, pineapple upside down cake, volcano cake, pineapple chiffon cake, guava chiffon cake, banana bread, or carrot cake.
Blue Hawaii Cocktail
Hawaiian Lemonade

1 oz light rum
1 cherry
2 oz pineapple juice
1 oz Blue Curacao liqueur
1 oz cream of coconut
1 slice pineapple

Mix light rum, blue Curacao, pineapple juice, and cream of coconut with one cup ice in an electric blender at high speed. Pour contents into a glass. Decorate with the slice of pineapple and a cherry.

6 ounces frozen lemonade concentrate, thawed
3/4 cup water
1-12 ounce can apricot nectar, chilled
1-12 ounce) can unsweetened pineapple juice, chilled
ice cubes
1 1/4 cups ginger ale, chilled
lemon slice (optional)

In a pitcher combine lemonade concentrate and water; add apricot nectar and pineapple juice. Stir well. Add ice cubes, ginger ale and lemon slices to garnish and stir again. Serve immediately.
Decorations
Transform your Luau party area into a tropical paradise, decorate with all kinds of bright colorful decorations. Decorate the tables with centrepieces made of tropical fruits and of course pineapples. Tiki torches are a must, not only will they look festive, they will help to keep the bugs away. Using surfboards as decorations is another way to bring an island feel to your celebration, and they are perfect if you need to hang any signs or banners. Be sure to play luau music in the background, for example Don Ho, and "Elvis' Blue Hawaii". You can find Luau Party Music CD's that will have a variety of different songs. Check with friends and the local library if you don't want to purchase music.
Games and Activities
If you decide to have activities make sure to have games that both men and women will feel comfortable playing and will have a good time. What luau would be complete without a Limbo contest, either set up a Limbo game or have two guests hold a bamboo pole, and see how low your guests can go. Another game that will defiantly have your guests laughing is a Hula Hoop contest, see which one of your guests can swivel their hips the longest.
If you told your guests to wear a Hawaiian shirts, then why not have a Tackiest Hawaiian Shirt contest, the ugliest shirt is the winner. AQnother game option would be to play the Never say "Baby" game using leis instead of diaper pens, at the end of the celebration the person with the most leis wins.
If there are small children on the guest list be sure to plan an activity that they will enjoy, like Build a Sandcastle contest. Buy or borrow some kiddie pools and fill them with beach sand. Make sure to wet the sand the night before because wet sand makes for better sand castle building. The best sand castle wins.
Opening Gifts
You may decide to forgo opening the gifts if everyone is having fun enjoying the tropical atmosphere. If you do decide to open gifts have the parents-to-be sit together, so they can both be involved with opening the gifts.
Favors
Chose favors that are related to your tropical Hawaiian theme. The one favor that is a must at a Hawaiian luau are leis, be sure to greet each guest and present them with a lei. If the guys are not into wearing flower leis, then give the men shell necklaces instead.
Other favor ideas:
White Chocolate Macadamia Nut Cookies
Bags of Tropical Fruit Trail Mix
Fresh Whole Pineapple
Sun tan lotion
Beach towels
Related Articles