Spooner's Day
From Giftypedia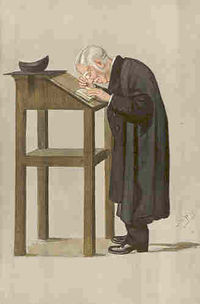 When Celebrated
Always on July 22nd
Gifty-ness

About the Holiday
Spooner's Day celebrates the birthday of British Reverend William Archibald Spooner born on July 22, 1844. Spooner was known for his many slips of the tongue or flip flopping of words now referred to as spoonerisms. There are several spoonersims attributed to Rev. Spooner. Below are just a few:
Instead of saying "cozy little nook" he said "nosey little cook".
Instead of saying "our dear old Queen" he said "our queer old Dean".
For more spoonerisms attributed to Rev. Spooner visit Fun-With-Words.com
Gift Guidelines

Pen and paper
White board and markers

Related Holidays
July Info & More Holidays
Birthstone:
Flower:
Zodiac:
Jun 22 - Jul 22



Cancer

Jul 23 - Aug 22



Leo