Spain Gift Giving Customs
From Giftypedia
Flag of Spain

Capital: Madrid

Languages: Spanish, Other Regional Languages

Currency: Euro

Religion: Roman Catholic

National Holiday: National Day, October 12 (1492)

More Spanish Holidays
Spain is a beautiful and diverse country that is rich in heritage and culture. Spain is a popular place for tourists because of the wonderfully mild year around climate and the abundance of beautiful beaches. Cultural tourism is also very popular in Spain, because of its rich and unique history. Spain's culture was influenced by many nations so travelers will defiantly be captivated by the variety in activities. When visiting a different country it is smart to educate yourself about the culture, and if your trip will include the exchanging of gifts then here are a few tips about gift giving etiquette in Spain:
Personal Gift Giving Etiquette
If you are invited to a Spaniards house, the Spanish gift giving custom is to bring a host/hostess gift such as chocolates, dessert items such as pastries, or a bottle of high quality wine.
Flowers are only sent for special celebrations, if gifting flowers they should be given in odd numbers, except for thirteen which is considered unlucky.
Make sure when you are invited into a home find out if the host/hostess have children, if so make sure to bring a small gift especially for them.
When receiving a gift, you should open it immediately and in front of the gift giver.
Make sure that gifts are beautifully wrapped.
Do not give dahlias, chrysanthemums, white lilies or red roses.
Christmas Traditions in Spain
In Spain the celebration of Christmas is not a commercialized holiday as it is in many parts of the world, but their celebration is defiantly longer. Christmas in Spain is considered a deeply religious holiday and a time to celebrate with family. Christmas celebrations in Spain begin on December 8th, with the feast of the Immaculate Conception, honoring their patron saint the Virgin Mary. During the Christmas season you will see homes, and towns that are decorated with elaborate Nativity scenes, but you will also find Christmas trees, wreaths, tinsel, holly, mistletoe and poinsettias.
On Christmas Eve as dusk arrives many families will place tiny oil lamps in their windows, line their walkways with luminarias or light candles around their nativity scenes; it is believed that the light will help to guide the Christ child to each home. Christmas Eve , which is called Noche Buena and means "the good night", is celebrated by families having a traditional feast late in the evening, which typically includes seafood and turrón, a nougat candy. Most families attend evening mass, at midnight there is the ringing of bells that notifies the families to come to "La Misa Del Gallo", which means The Mass of the Rooster.
Christmas Day is enjoyed by spending time with the familiy, most families will have another feast, but it will not be as extravagant as the meal on Christmas Eve. Though Christmas Day is traditionally not the time to exchange gifts it is becoming popular among some families, and these gifts are from Santa Claus known as "Papa Noel". Spaniards traditionally wait until the feast of the Epiphany or Three King's Day to exchange gifts.
New Year's Eve, called Noche Vieja is a huge celebration just as it is in many places across the world. Some people will spend a night out on the town and some will spend the evening celebrating at home with family. Many Spanish cities will have celebrations in the city squares where people can gather and celebrate together. On New Years Spanish people have a tradition known as "eating of the grapes". When the clock strikes midnight all Spaniards eat twelve grapes, everyone has to eat one grape on each stroke of the clock. According to tradition, eating the grapes is believed to bring good luck for the coming year.
The Epiphany, January 6th is the main day for exchanging gifts among children and adults. On the Eve of Epiphany, January 5th, many Spanish towns will have a parade to commemorate Melchor, Kaspar and Balthasar, the three kings who traveled to find the new born Jesus. Children believe that the three kings bring their gifts. Before children go to bed, on the Eve of the Epiphany they will fill their shoes with straw, carrots and barley, then place the shoes on the doorstep for the kings' donkeys as the three kings pass by to leave gifts.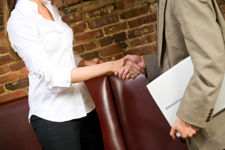 Business Gift Giving Customs
Gifts are not typically exchanged at initial business meetings, usually gifts are given only at the conclusion of successful negotiations.
Business gifts should be of good quality but not too expensive, giving a gift that is to extravagant may be perceived as a bribe.
Do not give gifts with your company logo, unless it is a fine pen or tasteful desk accessory and then it should only have your company name.
Business Etiquette
The Spanish have a relaxed view of time, but while doing business in Spain it is important to arrive for meetings on time.
Spaniards will want to spend time getting to know you before doing business, so remember that many times the first meeting is simply to start the relationship.
Do not get offended if you are interrupted when speaking it is very common, so is having several people speaking at once.
Related Pages
Resources