Play Monopoly Day
From Giftypedia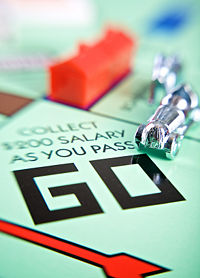 When Celebrated
Always on November 19th
Gifty-ness

About the Holiday
Today is Play Monopoly Day and that is just the way to celebrate. You can find Monopoly games in many and almost any theme. There are World War theme, sports theme, horse racing theme and even themes of famous cities around the world. Monopoly holds the Guinness Book of World Records title for most played board game in the world with over 500 million people having played. That was in 1999. Hasbro.com has some interesting monopoly facts. Some are below:
The longest MONOPOLY game in history lasted for 70 straight days.
The character locked behind the bars is called Jake the Jailbird. Officer Edgar Mallory sent him to jail.
The highest rent property on the game board in the U.S. is named "Boardwalk" after a street in Atlantic City. In Spain, it is named "Paseo del Prado" after a street in Barcelona and in France, "Rue de la Paix" is the name of the most coveted property space.
Gift Guidelines

Organize a Monopoly game
A Monopoly game
The Monopoly book
A Monopoly themed gift

Related Holidays
November Info & More Holidays
Birthstone:
Flower:
Zodiac:
Oct 24 - Nov 21



Scorpio

Nov 22 - Dec 21



Sagittarius