Pi Day
From Giftypedia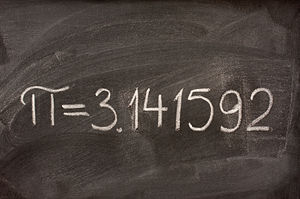 When Celebrated
Always on March 14th
Gifty-ness

About the Holiday
Pi Day is a Math Holiday held on 3/14 (which also happens to be Albert Einstein's birthday) in tribute to the common 3.14 approximation for Pi. The Pi constant represents the ratio between the circumference of a circle to its diameter. It's represented by the Greek letter "π" and is a number of extreme usefulness and intrigue in science and engineering. For those who have a good memory, the first 75 digits of Pi are...
3.141592653589793238462643383279502884197169399375105820974944592307816406286
Similarly, Pi Approximation Day is held on 7/22. Pi Day was created by Larry Shaw in 1988.[1]
Gift Guidelines

Scientific calculator
A Pi t-shirt
Book on science or mathematics
Life of Pi DVD

Related Holidays
References
↑ SF Gate: Any way you slice it, pi's transcendental by Justin Berton, March 11th, 2009
March Info & More Holidays
Birthstone:
Flower:
Zodiac:
Feb 19 - Mar 20



Pisces

Mar 21 - Apr 19



Aries