New Year's Eve
From Giftypedia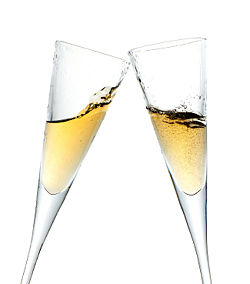 When Celebrated
Always on December 31st
Gifty-ness

About the Holiday
New Year's Eve is one of the more celebrated holidays on the US calendar and many other countries world-wide. It marks the last day of the year on the Gregorian calendar and the transitioning into the new year. People commonly get together for a party that usually lasts past midnight. Just prior to midnight, there's a countdown from 10 to 1 to mark the last 10 seconds of the year with a big, loud Happy New Year when it's officially midnight. Then, it's common tradition to give your loved ones a happy new year kiss. Many times there is also a Champagne toast at midnight. Leading up until and after midnight many people will share their New Year's Resolutions to declare the life changes they're going to make with this new year.
During the night, many people watch TV or radio programs that commemorate the closing year, or past decade if it also happens to be the end of a decade. With which, many prognosticators make far-fetched predictions on what we'll see in the year to come.
Party hats, confetti and noisemakers are also common at New Year's Eve parties.
Gift Guidelines

Champagne
Champagne glasses
Party hats & noisemakers
Appetizers

Related Holidays
December Info & More Holidays
Birthstone:
Flower:
Zodiac:
Nov 22 - Dec 21



Sagittarius

Dec 22 - Jan 19



Capricorn