National Walk to Work Day
From Giftypedia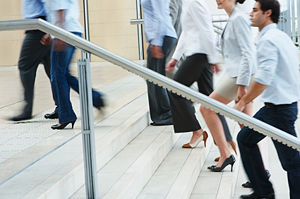 When Celebrated
Always the first Friday of April
Gifty-ness

About the Holiday
Not only does National Walk to Work Day help reduce pollution and save energy, but walking also has many health benefits. Walking 30-60 minutes each day can help to reduce your risk of breast cancer, heart disease and Type II diabetes.[1] If you live too far to walk the whole way, consider driving part way and walking the rest. Or, if you take public transportation, consider getting off a stop or two earlier. The goal is to get in at least 15-30 minutes of walking.
Doing this is a great way to shake the rust off those legs and to enjoy some relaxation time to and from work. Perhaps with the added relaxation, reduced gas costs, and added health benefits, this can turn into a weekly or even a daily thing.
This holiday was started in 2004 and is promoted by Prevention magazine and endorsed by the US Department of Health and Human Services and the American Podiatric Medical Association.
Gift Guidelines

Walking shoes
Backpack
Sunglasses

Related Holidays
References
April Info & More Holidays
Birthstone:
Flower:
Zodiac:
Mar 21 - Apr 19



Aries

April 20 - May 20



Taurus