National Play Doh Day
From Giftypedia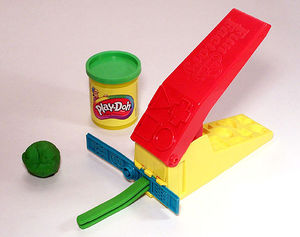 When Celebrated
Always on September 16th
Gifty-ness

About the Holiday
National Play Doh Day is a holiday for letting the kid in you come out. The celebration of this day is easy with either store bought Play Doh, or clay made at home with a little flour, water, and food coloring. Let your imagination soar with creative moldings, and maybe even a taste or two!
Play Doh actually was first concocted by Noah McVicker in the 1930s as a wall paper cleaner his family's soap company. In 1955, his nephew Joseph McVicker found that the wall paper cleaner was being used by schools for arts and crafts. Joseph renamed the product Play Doh and started marketing it to teachers, schools and department stores. It hit the market in 1956 and has been a smash ever since! Over 700 million pounds of Plah Doh have been sold world wide.[1]
We have found a few references to September 18th being the date for this holiday, though, we've found significantly more sources in agreement with the September 16th date. We have yet to establish the significance behind the date chosen for this holiday.
Gift Guidelines

Classic set of colored Play Doh
Play Doh cologne (no joke!)
Ingredients to make or give homemade Doh

Related Holidays
References
September Info & More Holidays
Birthstone:
Flower:
Zodiac:
Aug 23 - Sep 22



Virgo

Sep 23 - Oct 23



Libra