National Flashlight Day
From Giftypedia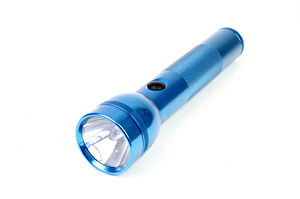 When Celebrated
Always on December 21st
Gifty-ness

About the Holiday
On National Flashlight Day we pay tribute to the invention of David Misell that was patented on January 10th, 1899. Originally, the newly invented light stick's batteries did not last very long producing a "flash" of light, which gave rise to the flashlight's name.[1]
This is a holiday that the kids will enjoy celebrating. So break out the flashlights and have some fun like making hand shadow puppets, or hiding candy in the backyard for a late night scavenger hunt. Or, just stay up late and read a book under the covers.
We were unable to locate the origin of this holiday, though we find it fitting that this holiday is held on December 21st, which is typically winter solstice, or the longest night of the year.
Gift Guidelines

Battery-Free Flashlight
Novelty Flashlight
Rechargeable Batteries

Related Holidays
↑ About.com: The Invention of the Flashlight by Mary Bellis
December Info & More Holidays
Birthstone:
Flower:
Zodiac:
Nov 22 - Dec 21



Sagittarius

Dec 22 - Jan 19



Capricorn