Measure Your Feet Day
From Giftypedia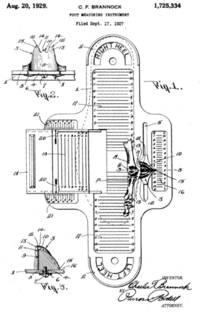 When Celebrated
Always on January 23rd
Gifty-ness

About the Holiday
Some sources say that Measure Your Feet Day originated in Iceland. Apparently in the Spring they typically have a lot of rain storms. During these storms, natives gather in their huts, pair off, and measure their feet! They also high five with their feet, which is called "Shelbing".
While knowing your foot size is important when buying shoes, a person's foot size was actually declared an official unit of measure by King Henry I of England and serves as the basis for the "foot" measurement. Though, a twelve inch foot is definitely above average as that would equate to a size 14 shoe.
It's important to periodically measure your feet. While most growing stops after our teen years our feet still change due to pregnancy, weight gain, or getting older where you may lose some of your natural padding and your arch could lose some of it's curve. The Brannock Device®, designed in 1927, is the tool used in shoe stores for measuring feet. More fun facts about feet...
Each foot contains 26 bones (about 25% of all bones in the body).
Common foot issues include ringworm, Athletes Foot, planter warts, bunions, ingrown toenails, hammer toe, and plantar fasciitis.
Per apma.org - American Podiatric Medical Association "A podiatrist is a doctor of podiatric medicine (DPM), also known as a podiatric physician or surgeon. Podiatrists diagnose and treat conditions of the foot, ankle, and related structures of the leg."
Average men shoe size is 10.5 and women 8.5 (foot size averages have increased over the years).
For most people, one of their feet is slightly smaller than the other.
Gift Guidelines

Brannock device
"How Big Is a Foot" by Rolf Myller
Foot long ruler
Therapeutic foot cream
Foot massage spa

Related Holidays
January Info & More Holidays
Birthstone:
Flower:
Zodiac:
Dec 22 - Jan 19



Capricorn

Jan 20 - Feb 18



Aquarius